The BMW 2 Series Gran Tourer Diesel is a great choice for young families who want a car that seats seven and wears a BMW badge.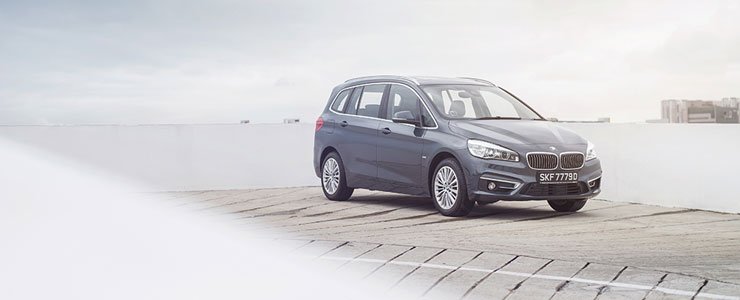 The late Paul Walker was introduced in Furious 7 with a close-up of his face. He's behind the wheel in his signature Vans shoes on the gas and staring at the road ahead with intensity.
For a moment we are led to believe that the next shot will show him speeding away in his Nissan Skyline R34 GT-R but no. The vehicle Paul pilots is a minivan and he's on a mission to drop his son off at school instead of smoking an old man in a Ferrari 355 Spyder. "You'll get used to this," says the teacher taking his son from the vehicle, to which he responds, "That's what I'm afraid of."
Our love for cars that are fun and fast runs deep but it's inevitable that we too will one day find ourselves in a similar situation. That leaves us thinking. What sort of family hauler will drivers like us want that still offers a decent driving experience? Those questions were answered when we met the BMW 2 Series Gran Tourer.
Up close and Personal


The Gran is the second Multi-Purpose Vehicle (MPV) offered by the Bavarian marque following its foray into family mobility requirements with the
Active Tourer
. While its not drop dead gorgeous (not quite the priority for an MPV anyway), the Gran's precise lines leave it with a stretched look and particularly dynamic flavour.
It also sports a similar elegant appearance as the Active but is longer and taller (an extra 120mm between the wheels and a further 90mm in the boot) with room for two more occupants in the third row. Apart from that, the well-built and generously appointed cabin shares the same design language as the Active and the
X1
.
Room in the third row may be a little cramp for adults and not very easy to access but will do the trick for children. There is one tiny problem, though. Passengers in that last bench may not be too happy about the lack of
dedicated air-conditioning vents, especially on longer journeys.

BMW makes up for this with an ample amount of storage space.
Boot space, as we expected, is bountiful. To fully maximise this, a
few simple flicks will fold both the second and third row neatly away - increasing the storage capacity from 550 litres to 1,820 litres.
This model is no longer being sold by local distributors
Engine Type
:
3-cylinder in-line 12-valve TwinPower Turbocharged
Horsepower
:
87kW (116 bhp) / 4000 rpm
Torque
:
270 Nm / 1750 rpm
Transmission
:
6-speed (A) Steptronic
Acceleration (0-100 km/h)
:
10.9sec
Fuel consumption
:
22.7 km/L