Used car dealers, auctions, self-import as well as direct owners are some of the options you could consider to get your used car.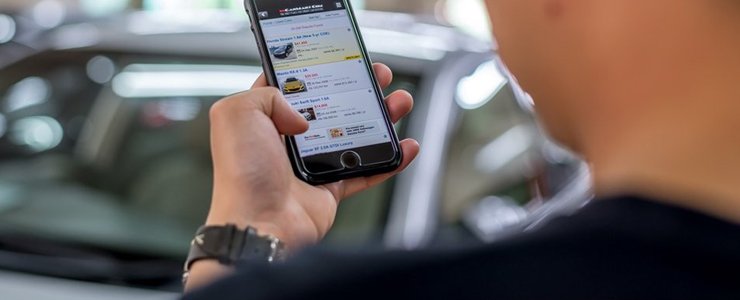 Years back, getting a used car was one of the common and economical methods of getting your own ride. All you had to do was head down to a used car dealer to get the job done. Today, with the rise of Internet classifieds and motoring websites such as ours, getting hold of a used car from a dealer isn't exactly the only choice.
With that many choices, it all comes down to one big question - where is the best bet to get a used car?
Used car dealers
Used car dealers act as a middleman between car buyers and sellers. What these dealers commonly do is buy cars from different sources at the lowest price possible and then sell them at a marked-up cost to buyers looking for a used car.
Based on their wide network of sources, some used car dealers are also able to attain the different types of cars from different sources such as trade-ins and new car distributors to give customers what they want.
Auctions
A car auction is a method of selling used vehicles based on a bidding system. Banks and finance companies with repossessed vehicles hold these auctions to recuperate the losses they incurred from car owners who defaulted on their car loan payments.
In Singapore, car auctions are usually conducted via closed bidding where bids are to be faxed in. This is when you'll be able to auction for the car of your choice. There is usually no third party involved in the auction and interested buyers are usually able to view the cars before the auction but no test drives are allowed.
Although most auctions nowadays have tie ups with finance and loan companies that are ready to lend you money for buying your car at an auction, there are some auctions that do not tie up with financing companies and it might turn out that the one you plan to attend does not offer any such facility. Hence, it's advisable that you do a thorough check before taking part in the bidding.
Used car auctions can also consist of damaged or rebuilt cars. Therefore, it is very important to research the vehicle as much as possible before bidding on it at a used car auction.
Self-import of cars
While self-importing a vehicle into Singapore isn't common (due to the hassle and high taxes), it is still a viable choice of getting a used car.
Mentioned below are the requirements for importing a car to Singapore:
1. Compliance with Road Traffic Act Rules
All imported cars must comply with the road traffic rules such as lighting, seat belts and motor vehicles rules.
2. Registration inspection
Like all cars in Singapore, your imported car must pass a safety inspection at any Land Transport Authority (LTA) centres before it can be registered. The inspection does a number of tests to your car such as alignment test, brake test, headlamps test, exhaust emission test, sound level test as well as under carriage check. These checks are paramount to ensure the road safety for all in Singapore.
3. Safety glass
All safety glass fitted onto your car must meet the recognised international standards. Additionally, the resultant light transmittance for the front windscreen and two front side windows must be at least 70% and while the resultant light transmittance for the rear windscreen and the rear passenger windows must be at least 25%. It must also be ensured that the front windscreen do not prevent, obstruct or interfere with the transmission of signals between the In-vehicle Unit (IU) and Electronic Road Pricing (ERP) facility.
4. Exhaust emission standards
The National Environment Agency (NEA) requires all petrol-driven vehicles to be registered in Singapore to comply with the exhaust emission standards as specified in the European Union (EU) Directive 96/69/EEC. This is similar to the Euro II standards.
5. Right-hand drive
Only right-hand drive cars are allowed to be registered for use in Singapore.
6. Safety belts
The imported car must be fitted with approved front and rear safety belts and must be able to meet recognised international standards.
7. Modifications to your car
Car modifications must be approved by the LTA before the imported car can pass the inspection and be registered thereafter.
8. Asbestos-free brake and clutch
Noted under the Poisons Act by National Environment Agency (NEA), all newly registered vehicles are required to have asbestos-free brake and clutch linings.
9. CFC-free air-conditioners
Air-conditioners installed in all newly-registered vehicles are required to use CFC-free refrigerant.
10. Speedometer
Your car must be able to permanently display vehicular speed in units of kilometres per hour (km/h).
In addition to these requirements, only vehicles that are less than three years of age may be imported and registered for use in
Singapore. A surcharge of $10,000 is also payable for each imported used car registered in Singapore
The
procedures on importation and registration of a car in Singapore
can also be found on LTA's website for a better and thorough understanding.
Although there are a wider range of car models available for you, your imported car may not have spare parts in stock in Singapore, making it a problem when it comes to servicing or repairing the car.
Direct owners
Due to the convenience of putting up an online car advertisement, locating your favourite used car from a direct seller has become much easier. More importantly, dealing with direct owners essentially removes "the middleman" which is often the car dealers.
Once the middleman is out of the picture, you'll stand a higher chance of purchasing a used car from its previous owner at an estimated 5% to 10% cheaper. It also gets better with the fact that owners will be able to tell you the ins and outs of the car such as how it drives and handles, what the car has been through and what you should look out for after the purchase. This allows you to know exactly what you're putting your money on.
Unfortunately, all the paperwork such as name transfers and insurance has to be settled by the seller and you, which could take up to a week.
The seller has to ensure that he is free from liability of the car he is selling before the transfer of car ownership can be approved by LTA. This approval can take up to a week to process.
The buyer, on the other hand, pays for the used car prior to his name being transferred on to the car registration documents. He cannot register the car in their name until the seller's loan has been paid off. An application of car insurance must also be done under the buyer's name before the transfer of car ownership has been approved.
If you are unsure of the necessary items to bring to LTA, a
documents checklist
is also available for you online. This is to ensure that you do not make a wasted trip down to LTA.
If you are buying from a direct seller, and would like to reduce the hassle that comes with it,
sgCarMart Connect
will be able to help. sgCarMart Connect provides car loan, insurance, documentation and transfer for both the seller and buyer all at your door-step. To find out more about how this service works, feel free to call the customer service hotline at
6744 3540 or visit their
URL
.
Authorised dealers' pre-owned car dealers
With the rise of COE prices, authorised dealers are now diversifying its business plans, by moving into the pre-owned market. There's Performance Premium Selection Limited (PPSL), a premium pre-owned car dealership, which is a subsidiary of Performance Motors Limited and Republic Auto Pte Ltd, a subsidiary of Cycle & Carriage.
One of the key differences between these kinds of dealership as compared to regular used car dealers is the assurance they provide for their customers. Cars put up for sale are thoroughly checked and inspected, leaving no room for any problems to occur with the car or paperwork. Plus, the chances of encountering methods of fraud such as odometer tampering are minimal too.
Furthermore, authorised dealers' pre-owned car dealers will offer a more comprehensive warranty coverage on the used cars that they sell. An example is PPSL who is offering up to 24 months of warranty and free servicing for the first 6 months.
All in all, researching before purchasing a used car can save you a lot of time as well as trouble. After all, as a driver, you would want your car to work for you.
Related Categories
Recommended Merchants(View all)