---
A Honda Fit Twist model variant has been unveiled at Sao Paulo Motor Show, a car specific to the local market from its R&D department.
The Brazilian subsidiary of Honda - Honda Automoveis do Brasil Ltda. (HAB) - unveiled the Fit twist at the ongoing Sao Paulo International Motor Show that is scheduled to go on sale next month. The Fit twist is a Fit model variant developed exclusively for Brazil by local automobile R&D teams. The Fit twist bears a sportier image than the stock Fit with a redesigned and exclusive front grill, roof rails and seat surface material.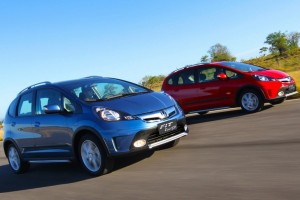 At the event HAB also announced it will invest 100 million Brazilian Reais
(S$60 million) in the R&D division in the next two years to strengthen facilities and equipment. The money will be used to build a new facility by the end of 2013 and expand the manpower in the R&D department. Enhancing R&D capabilities in Brazil is part of Honda's efforts to reform its global operations.
Honda aims to increase the role local R&D and design teams play to satisfy domestic demand and taste. From 2014, HAB will renew its lineup of small cars while also introducing a new compact SUV model in Brazil. Honda also announced it will retail the premium Acura brand in Brazil in 2015.
"For more than 40 years since we began our motorcycle business in Brazil in 1971, we have been offering the joy of riding, with more convenience and comfort for people's daily lives. To introduce more attractive automobiles more quickly to the Brazilian market, Honda will further strengthen its R&D capability in Brazil, including adopting locally optimised design to create products that directly respond to the voice of Brazilian customers," says Takanobu Ito, President & CEO of Honda.