3 GUYS,
3 DIFFERENT BMWS
HOW DO THEY MAKE THEIR PICK?
Text | Idris Talib
Photos | Low Fai Ming
30 JUNE 2021
Three very different men of different ages decide on their favourite BMWs to suit their backgrounds and lifestyles. What are the BMWs that they've picked?
BMW's 'Power of Choice' strategy offers customers the opportunity to choose the powertrain of their choice, from petrol-powered BMWs to plug-in hybrid or fully electric ones.
For those who still prefer internal combustion engines, BMW's wide range of models means that we get to pick the best car to suit our needs.
While the more traditional choices include the
3 Series
,
5 Series
and
7 Series
, you now have BMWs in all shapes and sizes. These include hatchbacks, coupes, MPVs and SUVs.
But what would be a great start to the BMW range? I took my two colleagues to find out. And as cliché as it sounds, it was as easy as one, two, and three.


The 1 Series - Young and professional
In the working world, image is almost everything. And in my late 20s, there are many around me who want an identifiable badge, and they look at the
BMW 1 Series
for such inspiration.
After all, being the 1 Series, it is the introduction to the world of BMW. It's a hatchback, so it'll appeal to those looking for an easier car to move around town.
But for me, it isn't about the badge. It is about having a car that's pretty complete in features and driving quality. And the 1 Series delivers.
It has safety assistance features such as Lane Keeping Assistant and Blind Spot Detection, and even added connectivity features such as wireless charging and wireless Apple CarPlay.

And with its turbocharged 1.5-litre engine offering ample power along with a well-tuned chassis, it is a joyous drive when you throw some bendy bits of road at it.

Mind you, this is the 116i variant of the BMW 1 Series, making it a Category A COE car. That means more savings, and yet, it still delivers a complete package.


The 2 Series - Style and substance
But hatchbacks aren't for everyone. In Singapore, at least, sedans are still the traditional choice.
And Desmond, now in his early 30s, is a stylish sort of man. But in a professional setting, having a car that's a little too quirky isn't exactly what he needs.
What fits his needs, then? It is the
2 Series Gran Coupe
. It is a practical four-door car, with a sloping, coupe-like silhouette. There's style, substance, and big boot(y) practicality to the mix. What's not to like?
And talking about that boot, it is 430 litres big - more than enough hauling capacity for a family. That is of course if Desmond ever plans to build a family.

But the 2 Series Gran Coupe effectively offers what's available with the 1 Series and more. You get the good road manners and plenty of safety and infotainment features to justify its price tag. And in this 218i trim, you also get a higher dose of power, at 138hp and 220Nm of torque from its 1.5-litre turbo lump.

And not to forget the generous dose of style the 2 Series Gran Coupe offers on the road. For a stylish man like Desmond, it is the perfect fit.


The 3 Series - Family professional

The 3 Series has been the staple in the BMW range for over seven generations, making it the oldest name amongst the other two. And currently, it is one of the best executive sedans out there.

The 3 Series is not all about suits and ties. We'll all look good in a 3 Series, but it does offer that stately age after being in the business for so long.

Thus, for someone like Julian, a family man of two kids, you just cannot go wrong with the 3 Series.
When the family is involved, comfort tends to be one of the priorities. As for ticking the right boxes, the 3 Series is now bigger, so there's plenty of room to spare. While all three cars have air-con vents at the back, the one in the 3 Series has climate control. This allows Julian's passengers to adjust the temperature to their liking.

Which is quite a big deal, because this is the 318i - the introductory variant to the 3 Series here in Singapore.

And with it comes a slew of standard features for Julian to enjoy. From BMW's Intelligent Personal Assistant, which recognises voice commands, and a Reversing Assistant that takes control of the steering to trace the last 50 metres travelled, to the Digital Key, enabling Julian to set up his car key on a compatible iPhone and share it with up to five friends. Not to forget wireless features comprising charging, Apple CarPlay and Android Auto - the whole nine yards.

And when you want to have some fun behind the wheel, that taut and agile chassis we've all known the 3 Series offers is still there. Does the complete package exist? Julian sure thinks so!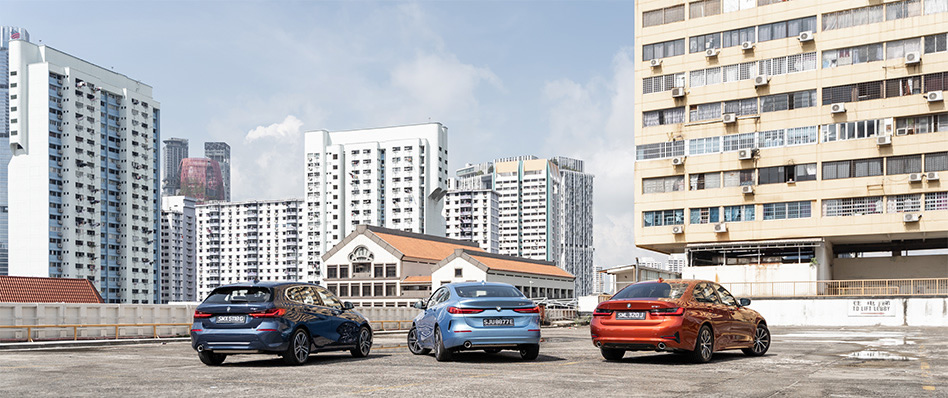 Easy as One, Two, Three

As you can see, the 1 Series, 2 Series and 3 Series are perfect choices for us in the Editorial team. All three cars are comprehensively packed with the latest features and equipment, comfortable to ride in and practical for couples or families.

But more importantly, when it comes to dynamic driving abilities, you can bet these BMWs will put a smile on your face, every single time. What more can you ask for in a car that can proficiently serve as a means of transport and deliver spirited driving in spades?

Choosing your first BMW? It is easier than you think.