---
The ostentatious Bentley Bentayga is an incredibly accomplished SUV that belies its glitz and glamour.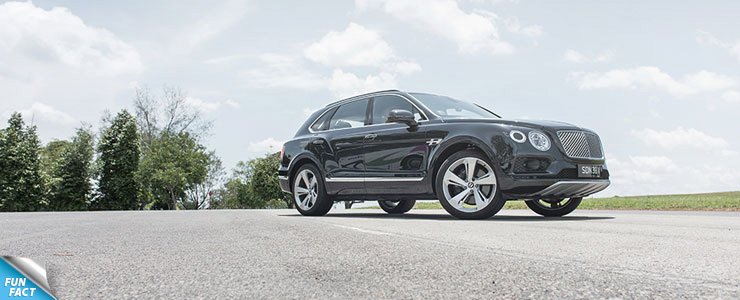 I am absolutely restless and lost. I can't seem to find an educational, entertaining or evocative angle to write about the Bentayga - the Sport Utility Vehicle (SUV) from Bentley that, realistically, only royal families or those handful of people who happen to be richer than royal families can afford to own.
As of 17 Aug 2016, the Bentayga is retailing for $900,000 (without COE and options). To date, two units are plying our roads, of which one is the First Edition, the model that comes with the full blown bells and whistles and the other is the W12 that you see here. Bentley will be delivering its second First Edition model to a happy buyer at the end of this month. Strangely, no members of the royal family have placed an order on this car yet.
With that price, it better look the part...
Started out as a concept car known as the
Bentley EXP 9 F
, which was first shown to the world at the 2012 Geneva Motor Show, the Bentayga wasn't the most pleasant-looking of the lot.
Thankfully, however, Bentley engineers straightened the SUV's looks out for the production line, with a frontal fascia that will not look out of place in the English marque's lineup of luxurious sports cars and sedans.
Despite sharing its MLB architecture with the handsome
Audi Q7
, Bentley has created a car that looks very much in accordance to its own bloodline. While it's neither the most graceful nor the sportiest of the lot to our eyes, the Bentayga is every bit bigger than the already biggish Q7.
Standing firmly at 5,140mm x 1,998mm x 1,742mm (L x W x H), the Bentayga is indeed every inch a luxury car, with ample presence that will send shivers down the spine of slower-moving drivers on the highway as the Bentayga charges towards them from behind.
It's a masterpiece on the inside as it is on the outside
The cabin is, without a doubt, a work of art. Integrating its focus on exquisite detailing with high-end materials, this is where you'd want to be after a long day's of hard work with a glass of well-aged whisky and a cigar.
Of course, you could be thinking it's too luxurious a place for such activities but one can never imagine just how attractive the lounge of a discerning gentleman's club can actually be.
To put things into perspective, climbing inside the Bentayga is a savouring experience. You don't get overwhelmed with the gamut of kit. Instead, there is a sense of vintage charm without compromising on modern conveniences as well as top notch plush and comfort for passengers all round.
Such an attention to detail, believe it or not, never lets you forget that you're piloting something extraordinary.

Engine Type
:
W12 Twin-Turbocharged
Horsepower
:
447kW (600 bhp) / 6000 rpm
Torque
:
900 Nm / 4500 rpm
Transmission
:
8-speed (A) ZF
Acceleration (0-100 km/h)
:
4.1sec
Fuel consumption
:
7.6 km/L