The new Aston Martin Vantage's power of seduction comes not just from its painstakingly beautiful design but more importantly from how it drives and sounds.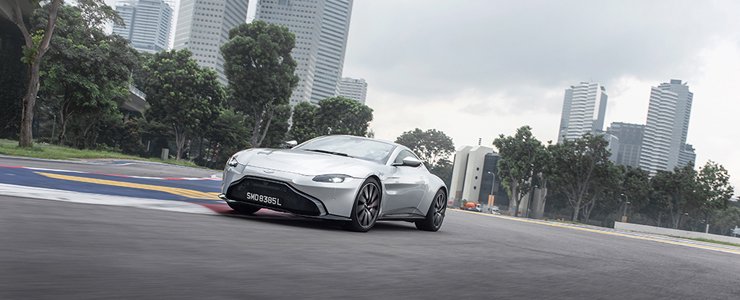 If the new
Aston Martin Vantage
isn't considered the most beautiful sports car currently on sale, then I'm not quite sure what is.
An artful masterpiece
It has the most fluid, most cohesive design of any fast two-seater that has come out of Europe over the past decade, with seductively flowing lines and flushed door handles that make the Lamborghini Miura look like a drunken scribble.
Best of all, from its front splitter - which creates a bold and distinctive fascia - and its new side gills, which bleed air pressure out from the front wheel arches, to its upswept trunk lid, everything has been designed with the purpose of downforce in mind.
Yet, it all comes together so perfectly as if it has been crafted purely for the sake of turning heads, even on the inside.
A striking driving environment
In the driver's seat, you sit nice and low, much more so than in the previous Vantage, in a cabin that's rich in leather appointment. If you prefer, you can have it finished in Alcantara, too.
And while its cabin isn't as cleanly laid out as that of an
Audi R8
or a
Porsche 911
, the cluster of buttons and switches integrated into the centre console offers a sense of drama that's nice to have with an expensive, exotic European sports car.
There are also some familiar bits in the architecture, such as the rotary infotainment control knob and signal indicator, which is a result of the Aston Martin and Daimler technical partnership agreement that was struck in 2013.
However, that's as far as the German influence goes with the cabin, and those with a little obsessive compulsive disorder may not take so well with the certain irregularities displayed, such as the less than dead-straight stitching on the dashboard.
In this respect, the English carmaker will have to put in a little more effort if it wants to beat the best of Teutonic attention to detail.
Still, those are just wee niggles considering the fact that most of your time will be spent appreciating the luxuriously appointed, driver-focused arrangement.
A beauty that's more than skin deep
More importantly, past its flawlessly elegant sheet metal and luxuriously cocooning cabin lays the heart of a beast. The Daimler partnership has also gifted the Vantage one of the best engines I have had the pleasure of abusing - the twin-turbocharged AMG V8.
Tuned differently, given the eight-speed ZF and in-house developed exhaust system that the boosted V8 is mated to, the Vantage comes alive in a character of its own.
With a stonking 503bhp and 685Nm of torque on tap, it's only half a second slower in a straight line against the
Ferrari 488 GTB
supercar, while delivering an addictively vicious soundtrack. Throttle response, too, is up there with the best in the business.
There is a massive amount of torque from down low, the moment you get on the throttle, and a seemingly endless supply of linear power as the revs climb and the burbling resonance crescendos into a howl when driven in the more aggressive Sport Plus and Track mode. At full bore, it throws you back against the seat and time-warps you into the horizon.
And even though the Vantage is powered up front by a biggish V8, it never feels nose heavy, even when you are man-handling it around corners.
Point the car in whichever direction you so wish and it will dart towards it obediently, all while reassuringly egging you to go faster with its quick-enough steering, beautiful balance, and grippy Pirelli tyres. Perhaps, my only wish is for a little more weight and a little more feedback from the steering.
But that doesn't really matter, because the Vantage is still a car that isn't just easy to drive, but also one that's easy to drive fast. It feels like a car with a short wheelbase so it's easy to see through fast corners, and never feels like you have to allow it to settle or correct it through one.
It is clear, then, that the new Vantage hasn't just been created to look good. Aston Martin also set about with the clear goal of it going rapidly around race tracks.
And what I experienced on public roads is just a fraction of what the Vantage can fully offer; so for further impressions of how it does at its limits, check out the previous stories by
Julian
and
Desmond
.
But even if you have the pleasure of owning one and are not as keen to take it onto a track like the Sepang International Circuit, there is still a lot to be enjoyed with the Vantage.
Whether you are just admiring it parked at the lobby of the Fullerton Bay Hotel or taking it on a fast cruise around town, there is always that sense of occasion it awards, which might just be something only Aston Martin cars are capable of.

Engine Type
:
V8 QOHC Twin Turbocharged
Horsepower
:
375kW (503 bhp)
Transmission
:
8-speed (A)
Acceleration (0-100 km/h)
:
3.7sec
Fuel consumption
:
9.7 km/L