The BMW M2 Competition is a brilliant, if admittedly niche, driver's car that is endlessly rewarding.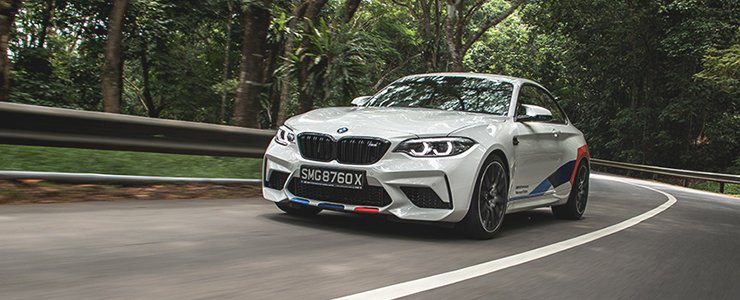 I've driven the new
BMW M2 Competition
last year, and I will unabashedly admit to being in love with the car. Now that it has finally been launched in Singapore, it's time to reignite my love affair.
Smell what's cooking


Many people may get caught up in the news that the M2 Competition now uses a 'proper' M engine, a twin-turbocharged 3.0-litre in-line six motor producing 405bhp and 550Nm of torque.
Yes, this engine is certainly more aggressive (and powerful). There's ample power from the engine. Put your foot down and you're doing license-revoking speeds in a blink of an eye. And power is delivered in such a linear and predictable fashion that we really wonder why anyone still wants to fervently hang on to the idea that naturally aspirated engines are better.
In a straight line, the M2 is friends-cursing-angrily-at-you-from-the-backseat fast. However, focusing on the engine is losing sight of what makes the M2 Competition truly special - its handling. With the massive Carbon Fibre Reinforced Plastic (CFRP) strut in the engine bay and adjustments all around, the M2 Competition is notably sharper, more precise and more rewarding to drive than before.
Razor sharp


What the car truly excels at is tackling corners - impeccable balance, pinpoint accuracy, immense grip, confidence-inspiring composure. Yes, you'll likely never be able to fully exploit the car's delicate agility on Singapore roads, but it's still rewarding nonetheless.
The M2 Competition is responsive, engaging and communicative, even when sweeping through a set of corners at 60km/h. Turn the wheel and the nose responds instinctively and immediately. 
The M2 is like WWE-era The Rock - impressive and deeply athletic in its own right, but perhaps a little flabby. The M2 Competition is
Fast and Furious
global superstar The Rock - leaner, tighter, meaner and so much more capable. The engineers have fiddled with the car to make it better in every way.
So yes, it's a brilliant performance car. However, how does it fare on normal day-to-day use? Well, the ride is definitely firm, and you want to tread lightly when going over humps, but driving along at highway speeds isn't back breaking.
Your rear passengers are also going to feel somewhat cramped, and the boot is just about big enough for general use. So, it's serviceable enough, though some compromises will have to be made. 
No digital delays


However, what makes the M2 Competition truly special is the fact that a lot about the car feels deeply analogue. In this day and age where everything is increasingly digitised and robotised, driving the M2 Competition is refreshingly old-fashioned.
No, the car isn't able to drive itself, and no you can't talk to the car. Yes, the cabin is admittedly dated (the basic interior architecture is at least seven years of age), but again the smattering of tactile buttons and switches adds to that analogue feel.
There's not much for you to fiddle with in the cabin, which means that you can focus solely on enjoying your drive. Hell, even having the radio on feels like it's taking away from the driving experience slightly.
The M2 Competition is singularly focused and precisely designed to deliver an exceptional and unique driving experience. It doesn't even try to pretend to be some sort of all-around vehicle. No, this is a driver-focused performance car, end of story. That is its sheer brilliance, and we must commend and thank BMW M for the gumption to make a car like this. 
Keep the good vibes going


The BMW M2 Competition is a special car, quite easily the best M car you can (or should) buy right now. There is, however, one problem with the M2 Competition - performance comes at a premium. 
Fully kitted out (as it is in Singapore), the car costs $327,888 (as of 6 March 2018). This high price tag is also compounded by the $20,000 VES surcharge. 
When the M2 Coupe was launched back in 2016 (though admittedly under a different distributor), it was priced at $276,800, and that's taking into account the fact that COE was in the high-$50,000s back then. This represents a significant price increase for the M2 Competition, diluting its value proposition somewhat.
Unless you plan to regularly track the car (which you absolutely should), it might be a little bit hard to justify paying that sort of money for what is essentially a small BMW with an angry engine.
The M2 Competition is undoubtedly a niche product. As brilliant as it may be dynamically, it's not cheap enough to battle it out with the hot hatches, yet it doesn't have the clout of bigger statement models like the
M3
and the
M5
, nor the branding of a Porsche.
The M2 Competition has carved out its own little niche by putting the driver front and centre and stripping away all else. It is special precisely because of it, but it also means that it will likely only appeal to a small group of discerning drivers.
We just sincerely hope that there are enough of these drivers that will buy this car. Truth is, cars like these are becoming increasingly rare these days. The BMW M2 Competition is special because these cars may cease to exist altogether. Best celebrate them while they are still around.

Engine Type
:
6-cylinder in-line 24-valve BiTurbo
Horsepower
:
302kW (405 bhp) / 7000 rpm
Torque
:
550 Nm / 5200 rpm
Transmission
:
7-speed (A) M DCT
Acceleration (0-100 km/h)
:
4.2sec
Fuel consumption
:
11 km/L