---
With its smooth and immediate power delivery, the Audi A1 Sportback is a compact hatchback that's easy to drive fast.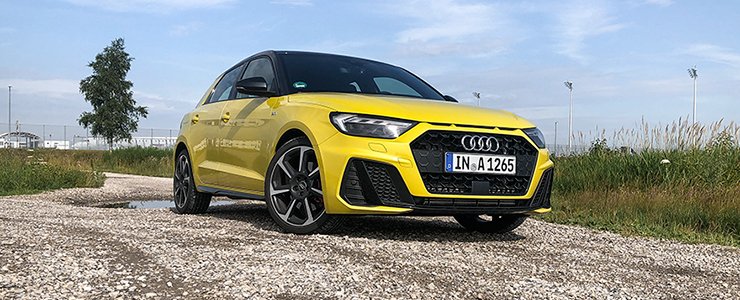 The all new second generation Audi A1 Sportback that you see here is not just a compact hatchback.

Yes, it'll seat four at best, has a decent boot space that will fit no more than three luggage, squats at 1,433mm tall and weighs no more than 1.8 tonnes. It also has a four-pot turbocharged 2.0-litre powerplant that sends its output to the front wheels - all via a six-speed dual-clutch gearbox. On paper, this is your exemplary compact hatchback.


But no.

What on earth are you blabbering?

After spending half a day with it, I've come to realise that the A1 Sportback is an insensitive little bastard that's arguably within spitting distance of being vulgar.

I may have exaggerated a tad here but this yellow punk has gotten me in a mess. It seems its performance figures of 200bhp and 320Nm of twisting force are just the tip of the iceberg that make this car such an unruly machine.


It's the noise the car makes. And that's where the car gets a little insensitive. Mind you, there's a choice of selecting the exhaust note to be 'pronounced', just so you can embarrass the MINI Cooper S beside you at the lights. Of course, this will just cause the fashionista behind the wheel of the MINI to give you the look, accompanied by the finger. And I don't mean the index.

This visual grandeur, however, fits the A1 Sportback's personality. Believe it or not, despite the ruckus this car is capable of, there's just no denying the sort of mischievous charm that's ironically alluring.

That's the beauty of the Audi. It's honest, unpretentious and perhaps a little provocative, especially when dressed in this Pythongelb Metallic yellow.


You got me at "spitting distance"

Colours aside, and onto a more serious topic, the A1 Sportback is such a joy to drive. It has the go to match its show and I suspect will have the guts to take on cars a size up its class.

On the move, unlike its competitor, it has neither the common cliche of go-kart handling that often comes across as harsh nor does it lack the dynamism that's commonly associated with MINIs.

Instead, it feels right at home on public roads, without the sort of prideful disposition that portrays itself to be track-capable sort of hatch. I'm sure it is, with its behaviour thus far, but as far as this writer is concerned, the abrupt stops, illegal speeds, long straights and winding committed curves are enough to prove this car's competences.
It's always eager to change direction and still very composed in the way it fends off body roll and understeer. Thanks to its pocket dimensions, it's not a difficult mission to get the car back in line if you decide to push it over the limits of adhesion, but it's certainly sweeter when you just drive it hard.
Amiable on the inside, cheeky on the outside
Just as sweet is the way the car looks. It may come across as unnecessarily masculine and striking on first glance, but it's undoubtedly the sort of looks that grow on you.
With the S line trim on our test car, there are large air inlets, additional sill trims and sizeable 18-inch wheels, which enhances the car's presence.
The cabin, on the other hand, is a thing of love-it-or-hate-it experience. For me, I love it because of its funky fabric uplostery. It comes with the yellow theme to match the sheet metal. This makes the car all the more an emotional machinery.
Nicely integrated within the dashboard is the high-resolution 10.1-inch system that takes centre stage. As with your smartphone, all commands are via touch input.
Space wise, apart from the aforementioned four occupants on board, the supermini offers 335 litres of boot space (65 litres more than before) and can be expanded to a whopping 1,090 litres with the rear seats folded.
Can I get one?
The Audi A1 Sportback will be arriving at the end of this year. However, our market is expected to get a three-cylinder turbocharged 1.0-litre variant that's mated to a seven-speed dual-clutch gearbox.
This said engine is rated at 115bhp and 200Nm of torque, which will allow the car to finish the century sprint in 9.4 seconds before maxing out at 203km/h. This may be three seconds slower than the 2.0-litre variant that you're looking at on this page right now, but trust me, this car - in whichever trim and engine variant - is an unruly yet charming bastard that will put a smile on your face every time.