---
Two sexy coupes, one ultimate showdown. Who will come out tops in this battle of the turbocharged two-door style icons? We find out.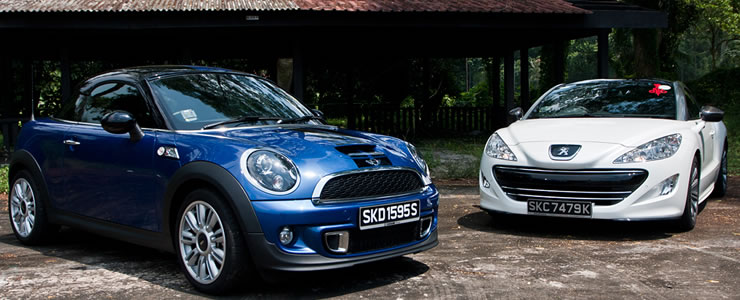 For a young, single male in the prime of his life, image and ego is often important. Almost every aspect of his life, from his words to his clothes, has to express his personality in order to attract the right kind of attention.
This translates into cars as well. Given the choice (assuming money being no issue), a young man would want his chosen steed to reflect the kind of person he really is, and perhaps, send a signal as to the kind of person he's looking for as well.
A modified Evo or Rex obviously shouts 'Ah Beng', but the more sophisticated lot tends to veer towards coupes as their desired ride. Perhaps it's the sexy shape that two-door cars tend to have. Or maybe it's the sinister signal to girls that the car can allow for just the one extra passenger, and nobody else.
But in modern times, looks and image alone aren't enough. Ability counts too. So coupes that are all show and no go often end up as more of a good-looking embarrassment if anything else.
We have with us two of the hottest-looking coupes currently available on sale, the Peugeot RCZ and the MINI Coupe, but which one will prove to be the most appealing package?
Exterior
There's no denying that both cars here are attractive lookers, and each has their own individual style that sets them apart from the other boxes you see on the street.
The RCZ sits low and hunched, as befits a car of its nature. Its bold styling makes it look like nearly nothing else out there, and details such as the aluminium-look roof arches and unique double-bubble design ensures that it grabs attention wherever it goes.
Sat alongside the RCZ, the MINI Coupe seems traditional by comparison. The front end design is typical MINI, while its own special roof design, likened to a baseball cap worn in reverse by some, is an object that truly divides opinion. But there's no doubt that MINI's latest creation can turn heads as equally as the RCZ, albeit in a different style.
The RCZ probably appeals to the fashion-conscious set, with its sleek French body and low-slung stance. The Coupe meanwhile is a bit more athletic, with masculine details like the black wheel arches and short, stubby tail, which hides the cheeky tail spoiler. The Pug also features a retractable rear spoiler, but it's probably more for aesthetic reasons than anything else.
This model is no longer being sold by local distributors
Engine Type
:
4-cylinders 16-valves DOHC Twin-Scroll Turbocharged
Horsepower
:
116kW (156 bhp) / 6000 rpm
Torque
:
240 Nm / 4000 rpm
Transmission
:
6-speed (A) Tiptronic
Acceleration (0-100 km/h)
:
9sec
Fuel consumption
:
13.6km/L
This model is no longer being sold by local distributors
Engine Type
:
4-cylinders in-line 16-valves Turbocharged
Horsepower
:
137kW (184 bhp) / 5500 rpm
Torque
:
240 Nm / 5000 rpm
Transmission
:
6-speed (A)
Acceleration (0-100 km/h)
:
7.1sec
Fuel consumption
:
14.9km/L