---
Transmission difference proves a hit with the fully automatic version of the DS4.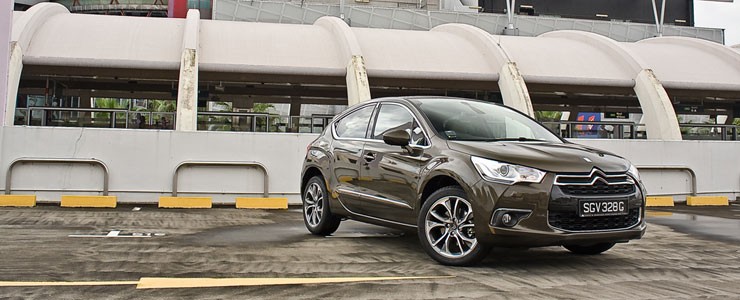 The Citroen DS4 is the second model in the new premium sub-brand DS created to run alongside its mainstream cars. Based upon the Citroen C4, it features raised suspension to resemble a compact SUV and repositioned door handles to give a coupe-like silhouette.
A few months ago, we tested the
Citroen DS4 1.6 THP EGS (A)
and we were impressed by its contemporary design and unique styling which was precisely why the Citroen DS4 managed to clinch sgCarMart's Car of the Year 2012 award for Best Design.
Not restricted to local shores, it was elected "Most Beautiful Car of the Year" at the International Automobile Festival, even beating BMW's new 5 Series.
However, the drive did not really fall into our good books, no thanks to its clutchless manual transmission. Driving it again with the fully automatic version of the DS4, however, has changed our perception of this car.
Exterior
While hit points of the DS4's unconventional styling were previously discussed, this fully automatic version of the DS4 is no different in terms of the exterior body styling.
Similar to the previous test car, this one came in 'Brun Hickory' (brown) as well, with the same muscular stance.
Being a cross breed of an SUV and a hatchback (crossovers, if you may), the DS4's overall ride height has been raised, offering more ground clearance, thus enhancing the SUV look.
Up front, the chrome centrepiece grille makes the DS4 look larger than it really is while curvy rear ends and an integrated roof spoiler complete the look of a hatchback.
Viewed from a distance, the unique looking 18-inch alloy rims look small, probably due to the larger wheel arch and increased ride height. However, all of these complement each other, hence contributing to the SUV outlook.
This model is no longer being sold by local distributors
Engine Type
:
4-cylinder in-line Turbocharged
Horsepower
:
120kW (161 bhp) / 6000 rpm
Torque
:
240 Nm / 1600 rpm
Transmission
:
6-speed (A)
Acceleration (0-100 km/h)
:
8.8sec
Fuel consumption
:
15.3km/L