---
An extra boot and a 'tailored' sheet metal mark the Audi A3 sedan as a desirable and good-looking addition to the A3 lineup.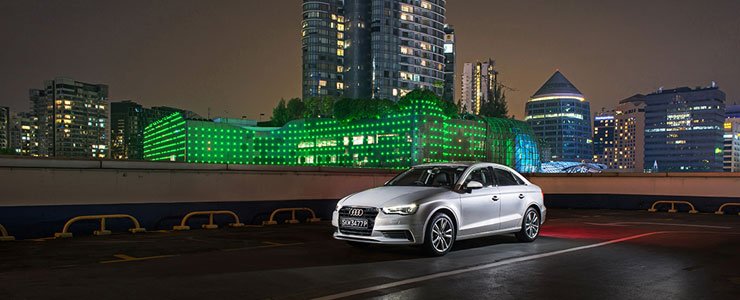 Audi introduced the third generation
A3 Sportback
in May last year in Singapore, one of the most frugal luxury hatchbacks that sports the same
MQB
(Modular Transverse Matrix) platform as the
Volkswagen Golf
. By end of last year, it launched the
S3 Sportback
, the 'spicier' variant of the A3 Sportback.
Now, Audi has pulled the sheets of the A3 Sedan, the 'extended' member of the A3 family that could well be one of the best compact luxury sedan choices in the COE Category A at the moment.
First unveiled in New York Auto Show last year, the
A3 Sedan
is also underpinned by Volkswagen's adaptable MQB platform. While that may seem like a rather predictable outcome from the German marque, it's no bad thing - considering how engaging similar cars fitted with the modular platform are.
Exterior
Seeing how Audi's handsome design language hasn't changed much over the years, the sedan here looks instantly recognisable. As such, casual observers will easily mistake this latest compact four-door for an A4 from the front.
Differentiation from the rest of the sedans in Audi's lineup will start to show once your eyes flow through the clean, crisp lines from the side to the back. Over here, the boot is seamlessly and stunningly integrated into the A3.
While most hatchbacks don't usually grow a boot gracefully, Audi has done well in attaching the bigger butt without coming across as just a 'joined' formula.
At 4,456mm x 1,796mm x 1,416mm (L x W x H), the A3 Sedan is almost 150mm longer and 11mm wider than its hatchback brethren but remains to be some 245mm shorter than the A4. Comparing its size to the Mercedes-Benz
CLA-Class
, the A3 Sedan may be shorter, but it's wider and lower.
This model is no longer being sold by local distributors
Engine Type
:
4-cylinder in-line DOHC Turbocharged
Horsepower
:
92kW (123 bhp)
Transmission
:
7-speed (A) S-tronic
Acceleration (0-100 km/h)
:
9.3sec
Fuel consumption
:
20 km/L