---
Given our sizzling climate, who can we turn to for reliable solar films? There may be ample brands for drivers to choose but there's only one we can trust.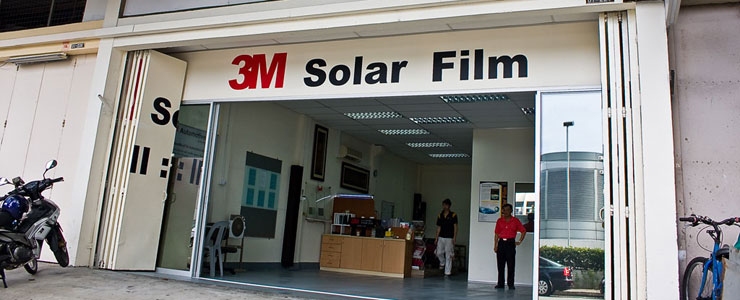 In a tropical country such as ours, the sun's rays emit radiation that can be potentially harmful to our skin and eyes. When the sun shines, the heat and glare transmitted through the windows can quickly become unbearable and will, eventually, become a potentially dangerous distraction on the road. So what's the best solution then?
What is a solar film and what are its functions?
A solar film is an alternative to using tinted and reflective glass. It is a flexible film that enhances a window pane by rejecting high levels of solar infrared heat, offering protection against glare and strong heat. Currently, metallic and ceramic are some of the common films offered in the market. They are manufactured using different materials and methods.
Metallic films are formed through methods of melting metals into vapour/gas which subsequently bond
s
to the films. Some films claim that they use sputtering technology, which uses electrically charged gases to dislodge metal molecules off metals like silver, and deposits them onto the film. The metal coating helps to reflect solar heat and depending on the shade of the metals, cuts glare (sunlight) from coming through the windows. However, metallic films tend to corrode if silver is extensively used.
Ceramic films use sputter metalizing technique to coat the film. Main types of material used are oxides like alumina, zirconia, carbide and titanium. These oxides are included as part of the ceramic classification. Ceramic films work by absorbing solar heat at the glass panel and thus retard the solar energy from entering through the windows. This characteristic, however, will cause the window panels to heat up, causing solar heat to eventually radiate into the vehicle. Unlike metallic films, ceramic films won't corrode or discolour over time.
Window panel is cleaned before installing solar film
3M Crystalline solar film, on the other hand, has a different proposition. It doesn't use metals or ceramic to reflect or absorb solar energy. Using 3M patented Multi-layered Optical film (MOF) technology, it comprises of hundreds of optical films combined together to help reflect UV and Infrared rays. Despite this, the combined layers are no thicker than a Post-It® note. Moreover, as the colour pigments are within the films and not on the surface of the films, they will not turn purple. Thanks to 3M's Multi-layered Optical Film Technology and its unique On-angle Heat Rejection Capability which rejects more heat during the hottest time of the day, 3M Crystalline Solar Films help to deliver more comfort, safety and protection to drivers.
What are the benefits of using a solar film?
Solar films protect the car occupants from the sun's harmful UV rays. For instance, 3M Crystalline Solar Films blocks out 99.99% of UV light, providing a total Sun Protection Factor (SPF) of over 1,000, which is more than 30 times the SPF of a regular sunscreen lotion. This high UV rejection rate gives vehicle occupants significant protection from the dangers of the sun's UV rays which include sunburn, damage to eyes, causes of premature aging and skin cancer. It also minimises distraction from the sun's glare while driving.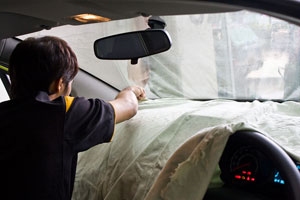 During the installation process, dashboard is covered to protect it from being dirty
Upon installation of the solar films to your car, you feel that your cabin is maintained at a more comfortable temperature. 3M Crystalline Solar Films excels in providing superior Infrared heat rejection of up to 97% and total heat rejection of up to 66%. This relieves the stress on air-conditioning during the day, resulting in an overall reduction in fuel consumption and savings.
Most solar films also equip drivers and occupants with an additional safety feature. In the event of an accident, the tough film, with its strong adhesive, holds the shattered glass together, preventing injury to the car's occupants. 3M Crystalline Solar Films are designed for additional tear-resistant strength and therefore help to keep the occupants safe inside the car. This shatter-resistance feature also prevents smash-and-grab thefts.
Solar films also provide occupants with privacy. Available with a tinted option, solar films are able to block out prying eyes of onlookers from peeking into the car. As 3M Crystalline Solar Films combine low reflectivity with a tinted option, back seat passengers are able to enjoy a comfortable ride with more privacy without worrying about non-compliance with LTA's regulations
What are the Land Transport Authority (LTA) guidelines and regulations for solar films?
There are some key pointers you should be aware of in order to pass your regular car inspections. This is to ensure that you do not end up having to pay a hefty fine for over-tinted windows. Cars must fully comply and satisfy the following regulatory guidelines set by the Land Transport Authority (LTA):
1) They must not be of the reflective type.
2) The resultant light transmittance for the front windscreen and two front side windows must be at least 70%.
3) The resultant light transmittance for the rear windscreen and the rear passenger windows must be at least 25%.
4) The front windscreen must not prevent, obstruct or interfere with the transmission of signals between the In-vehicle Unit (IU) and Electronic Road Pricing (ERP) facility.
Thus, if your glass panels are already tinted, do ensure the solar film that you get is not bordering on the minimum required light transmittance level.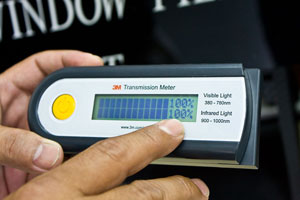 Testing of 3M solar film using the transimssion meter
Installation of solar films

Do not have your car's solar films installed in an open area. Make sure that the solar films are installed in a dust-free environment to prevent dust particles from causing your window panels to look dirty.

Furthermore, installation of car solar films should be carried out by professionally trained installers. This is because having a trained installer to install the solar panels cuts the possibility of oxidisation cracking, peeling and water bubbles forming on your window panels. It takes about 2-3 hours to get the solar films installed in a typical sedan.

Upon the completion of installation, the merchant or the installers will usually advise you on how to care for your solar films, especially for the first couple of days. One of the most common pointers would be to refrain from winding down your car windows for the next two to three days. This is because it takes time for the film to dry completely and winding down the windows may cause the edges of the films to peel off the window panels.

Another thing you should probably know is that solar films dry faster and more effectively in the presence of heat. Hence, keeping your car under the Sun for a couple of days will help to speed up the drying process. Do also allow a minimum of one week after installation before you clean the surface to ensure complete bonding of films to windows. Abrasive type cleaning agents and bristle brushes which will scratch the film should not be used. It is recommended to use synthetic sponges or a soft cloth with cleaning solution.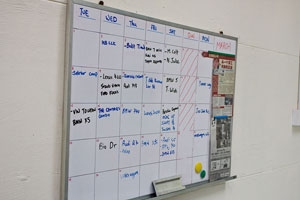 Solar film installation is done via appointments only
How to choose a suitable solar film for your car?
It is vital to choose a suitable solar film based on the reputation of the brand because they usually have better installation centres (which are dust-free) and more experienced installers. There are a couple of brands that are commonly recommended when it comes to solar films for your car window panels but we reckon 3M is still rated as the best. 3M is a pioneer in developing and applying technologies in new and ground breaking ways. Apart from being a recognised leader in research and development, 3M produces thousands of innovative products for dozens of diverse markets. 3M's core strength is applying its more than 42 distinct technology platforms - often in combination - to a wide array of customer needs.
It is important to choose solar films with high UV rejection, IR rejection as well as the overall heat rejection ratio. Solar energy is a form of electromagnetic radiation that is expressed in 3 bands: Solar Ultra Violet (UV), Visible (VIS) as well as Infrared (IR). Most solar films are able to block out 99% of the harmful UV rays but what they cannot achieve is to block out the IR, which accounts for most of the heat that we feel from the Sun. But 3M manages to succeed in that area, rejecting up to 99.99% of UV rays and 97% of IR without compromising visibility.
Additionally, be sure to choose a brand of solar film that comes with warranty. Most brands offer a limited period of warranty. But for 3M Crystalline Solar Film, they are able to offer a lifetime warranty which is transferable. More importantly, all 3M solar films are installed only by 3M certified solar film applicators that have undergone stringent training and tests by 3M. For this reason, car owners can be rest assured of 3M's applicators installation skills.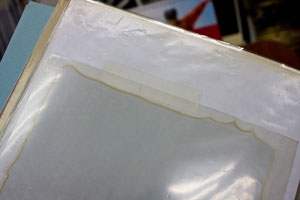 An example of a corroded film
Last but not least, decide on a solar film that will be able to last long. Due to its components, metallic solar films have a tendency to corrode after a couple of years. However, being a solar film that is totally free of metal, there will not be any corrosion of the crystalline solar film by 3M. As such, it is durable, easy to maintain and will not interfere with mobile phones, GPS and ERP signals. This also eliminates the need for an unsightly cut-out at the In-vehicle unit (IU).
Being awarded the first-ever patent on sun control window film in 1966, 3M guarantees a number of benefits upon installation of their product:
1) No Interference of radio, mobile phone signals
2) No unsightly cut out at ERP units
3) High UV protection of up to 99.99%
4) No corrosion or purple windows
5) Compliant with LTA guidelines
6) Improved safety with shatter-resistance
7) Ten-year transferrable warranty
Depending on the size of your ride (MPVs or sedans), prices of the solar films vary. Considering the great quality of solar films 3M has to offer, we reckon it's a small price to pay, especially so for drivers in countries with sizzling climates such as Singapore.
Address
:
Blk 1045 Eunos Avenue 4 #01-130 S(409795) (map)
Opening Hours
:
9am - 6.30pm (Mon - Fri) 9am - 4pm (Sat) Closed on Sun & PHs
Phone
:
62433448 / 96323448
Related Categories
Recommended Merchants(View all)