Some car owners replace their stock exhaust with loud and noisy aftermarket versions. But is it worth it?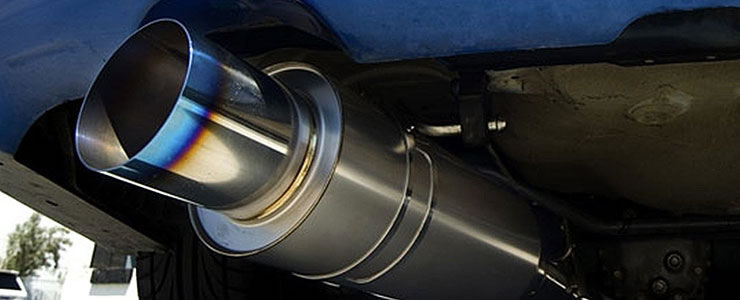 If you are interested in modifying your car, you will know that one of the most common items to be replaced is your car exhaust.
One obvious reason as to why people replace their stock exhaust with an aftermarket one is the enhancement in performance that the aftermarket exhaust usually offers.
There are lots of exhaust variants that you can choose from these days and you can get them at pretty affordable prices thanks to the fierce competition among the exhaust manufacturers.
However, there is one thing that you should keep in mind. Some people try to replace their stock exhaust with what they assume to be a racing exhaust. Some young car owners are even deceived by the exhaust note. So, knowing how to select the appropriate exhaust for your car is important.
Borla
To start things off, one brand that is highly recommended is Borla. This brand is relatively well-known throughout the world, and it has built its reputation for quality and affordability over the years.
Made from stainless steel, Borla exhaust systems are made to withstand exterior deterioration such as vibration, high temperatures, emission control requirements, uneven road surfaces, and varying traffic patterns.
Moreover, Borla utilises T-304 stainless steel which has the highest chromium content, making it the most resistant to corrosion and therefore the most desirable material for a long-lasting exhaust system.
Borla car exhaust systems often include variants such as the marine muffler pairs, S-Type, turbo XL, turbo mufflers and even the particular XR-1 Sportsman racing muffler.
HKS
Known for its aggressive note, HKS is also a brand that is familiar to most car enthusiasts. Their exhaust systems are durable and they significantly increase the performance levels of a car.
One of the most well-known exhaust systems by HKS is its Hi-Power Exhaust system that is developed for both turbocharged and naturally aspirated applications. Inspired and designed from endurance and GT racing in Japan, they have incorporated this new race inspired offset muffler and piping design into many street applications, which offers a greater flow and higher RPM power gains due to the less restrictive design. This is achieved by eliminating unnecessary bends for the straightest exhaust path.
Some other exhausts offered by HKS include the Drager, Universal Titanium, Universal Stainless Hi-Power, Universal Carbon Ti and the Legamax Premium car exhaust systems.
A'PEXi
One of the top brands that rivals HKS is A'PEXi.
While A'PEXi exhaust systems are generally more reasonably priced when compared to the other brands, it is capable of producing a similar level of performance as compared to its rivals.
A'PEXi exhaust specialists toil long hours in the art of exhaust gas flow. Every category of manufacturing is analysed including CAD design, materials, welding quality, exhaust gas dynamics, engine compatibility and real world use. This makes their exhaust systems one of the most reliable in the industry.
If you are considering A'PEXi, there are several types of systems available. They include WSII, Universal N1 Race, Hi Power 75mm Inlet, Universal Turbo Muffler and the N1 Catback racing muffler.
MagnaFlow
Aside from the brands aforementioned, there are also other alternatives to choose from. One of them is MagnaFlow.
Focusing on the mufflers of the exhaust system, MagnaFlow Performance products are 100% polished stainless steel and lap-joint welded for solid construction and rugged reliability even in the most extreme conditions.
They feature a free-flowing, straight-through perforated stainless steel core, stainless mesh wrap and acoustical fibre fill to deliver that smooth, deep tone. Mufflers are packed tight with this acoustical material unlike other products to ensure long life and no sound degradation over time.
Additionally, MagnaFlow's one piece perforated stainless steel core lets exhaust gasses fly right through. MagnaFlow's straight-through design improves exhaust flow to increase torque and horsepower.
MagnaFlow offers variants of XL mufflers, Glass Pack, Round Race Series, Oval Universal and Oval Race Series racing mufflers.
Flowmaster
Another brand worth mentioning is Flowmaster. For those with a V8 engine roaring under their hood, Flowmaster is often their weapon of choice. Flowmaster exhausts are often used on American cars such as Chevrolet and Ford.
The exhausts from Flowmaster are known to be expensive due to the high levels of enhancement it provides for cars.
Flowmaster stands out from its competitors as its engineering staff can track the complete engine cycle in millionths of a second and can obtain exact technical data of each degree of cam rotation, from induction to the tip of the exhaust system. This makes Flowmaster one of the most reliable brands for exhaust systems.
The exhausts from Flowmaster often include variants such as single, two and three chamber mufflers, Outlaw Shorty Round 3-inch and the Scavenger Series Header Collector exhaust systems.
For user reviews and product information on all
exhaust systems
Singapore, you can visit our
Product Guide
section.
Related Categories
Recommended Merchants(View all)