It is compulsory for every car in Singapore to be covered by motor insurance by paying a premium on an annual basis.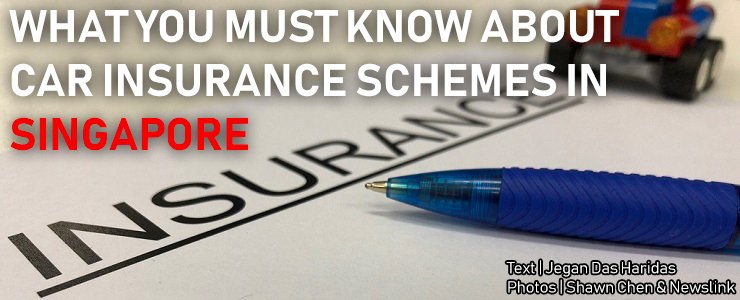 There are three types of car insurance covers - 'Third party cover', 'Third party, fire and theft' and 'Comprehensive cover'.
Third Party Cover
This policy covers the driver's legal liability for damage to property belonging to other persons such as cars, fences and streetlights et cetera.
It also includes the driver's legal liability for death or bodily injuries to passengers and third parties caused by his/her negligence. This is usually the entry-level policy as it provides the least coverage.
The policy covers any incidents happening in Singapore, West Malaysia and 80km of Thailand from the borders of Malaysia.
Third party, fire and theft

On top of the entry-level policy, this cover includes accidental loss or damage by fire and/or theft of the vehicle. Obviously, this would cost slightly more than the first policy.
Comprehensive Cover
This is the most common policy and has the widest protection for the insured. Like the third party cover, it covers the driver's legal liability for damage to property belonging to other persons. On top of that, it also covers repair or replacement of the driver's own vehicle if it is damaged or lost as a result of accident, theft or vandalism.
Though the term 'comprehensive' is used, the standard comprehensive cover does not include loss from riots, strikes and civil commotions, and acts of God (force majeure).
It is advisable to get comprehensive insurance coverage since it provides not only third-party coverage but also damage done to yourself when you are the party at fault in an accident. It is compulsory to get comprehensive insurance coverage for drivers who are still financing their cars.
Factors affecting insurance costs
Age of vehicle
The cost to insure older vehicles is much lower due to the availability of aftermarket/used parts. While newer car parts are generally more expensive to replace.
Engine capacity
The larger the engine capacity, the higher the cost of your premium. Vehicles with higher capacity tend to be more expensive; incurring higher cost in repairs.
Type and model of vehicle
Coupes and turbocharged cars are often expensive to insure for similar reasons, expensive car - expensive premium. Off-peak cars would cost less, being that they spend lesser time on the road, thus lowering the risk of an accident.
Driver's personal details
The driver's age, gender, driving experience, occupation and past records will also be considered.
Those below the age of 26 pay a significantly higher premium than older drivers because in the eyes of the insurer, younger drivers tend to be hot-headed and reckless.
Inexperienced drivers with less than two years of driving experience are charged heavily for premiums as well, because they are more susceptible to accidents on the road.
Car insurance prices are also based heavily on gender. Women are seen to be safer drivers and would, therefore, receive a lower quote for premiums.
Lastly, a driver who has made numerous claims in the recent years would not receive a lower premium as they are labelled as high-risk drivers. Insurance companies will usually ask the driver to declare his claims over the past two years.
Before making claims
It is advisable to not claim against your insurer, should the total repair cost incurred be lower than the current discount/rebate your premium offers.
Insurance discounts
No-Claim Discount
A rather generous discount will be given if you have not made any claim for the past year. The No-Claim Discount kicks in whenever you renew your car insurance annually. 10 percent is given year on year as long as no claims have been made. The discount could also be carried forward to another insurance company should you wish to make a switch.

Private car policies


Period with no claim


Discount on renewal


First year


10 percent


Second year


20 percent
Third year


30 percent


Fourth year


40 percent


Fifth year


50 percent


Certificate of Merit
The Certificate of Merit (COM) entitles a driver to a five percent discount on insurance premiums on top of their no-claim bonus. Upon achieving three straight demerit-point free years, a driver is eligible for a COM at the point of purchase/renewal of the car insurance.
Loyalty discount
Some insurance companies reward you for your loyalty. After a period of time (typically a year), the discount comes in at five percent, though it varies from company to company. Make sure that you enquire about this before purchasing your motor insurance.
Cars are crazy expensive in Singapore, so you might as well get the most out of your insurance and get the most coverage at the cheapest prices. Make sure to do your homework before deciding on your insurer.
Compare from 10 insurers with our trusted broker. Hassle Free!

Save up to $629 on your car insurance renewal!

Get FREE voucher

Free vehicle recovery in the event of accident

All done from the comfort of your home
*This article was updated on 6th March 2018.
Related Categories
Recommended Merchants(View all)