What is Excess?
When you choose your car insurance coverage, an excess is a fixed sum payable from your own pocket, for damages, before the insurer covers the rest. You can customise the excess payable.
Here's an example:
Adam is cruising along PIE on his way to work. A tree suddenly collapses in front of his path. Unavoidably he crashes into it, and the cost to fix the car is $2,000. Fortunately, his excess is $500. So he just pays $500, and the insurer forks out the remaining.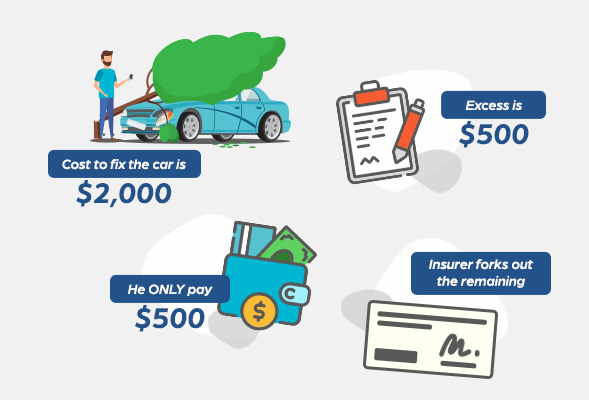 Here are the three types of excess in car insurance:
: This excess only applies to your vehicle. It's not inclusive of the third party's damages.
: This excess applies to damages incurred by the third party. You may need to pay this on top of the excess in your 'Own Damage'.
: This excess refers to the total sum payable to every accident, regardless of whose damages the excess covers.
Generally, opting for a higher excess helps lower car insurance premiums. However, with less insurance pay-out, you're putting yourself at a higher financial risk on the roads.
---
No-Claims Discount (NCD)
This discount incentivises drivers to practice safe driving. You earn a 10% discount for each year you stay claim-free, up to a maximum of 50%.
| Period of insurance with no claims | Discount on renewal |
| --- | --- |
| 1 Year | 10% |
| 2 Years | 20% |
| 3 Years | 30% |
| 4 Years | 40% |
| 5 Years or more | 50% |
Note that NCD for private-hire cars differs from this table.
NCDs aren't necessarily compromised upon claims unless the driver's liability is more than 20% under the Barometer Of Liability Agreement (BOLA). If so, their NCD could decrease by 10% or more.
Some drivers pay an additional fee for the NCD protector scheme. This allows them to make one claim and still retain their NCD privileges.
Your NCD is also transferable from one car to another. Even if your car is scrapped, you can retain your NCD for at least 12 months. On another note, if you own two cars, your second car might not enjoy the same NCD privileges as the first car.
---
Named Driver(s)
Named drivers are recognised by insurers to drive the car. They're covered by the main owner's insurance policy and are entitled to the same privileges/protection.
Family members are oftentimes added as named driver(s) to keep financial risks low. Should an unnamed driver get into an accident while using your car, the insurer can impose a higher excess on your claim.