Audi has updated its small but superb S3 Sedan, offering up a compelling experience in an understated, sleeper package.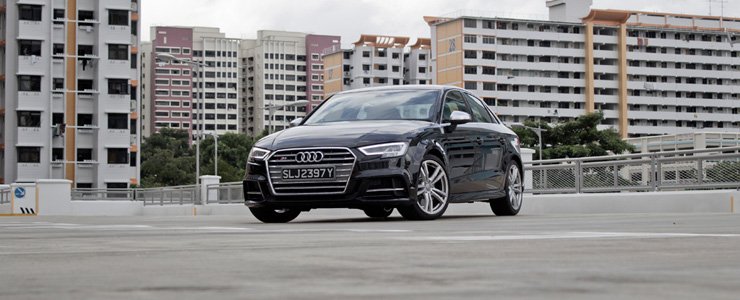 Is this merely a 'lights and bumper' update?
Some people sneer at face lifts, contending that manufacturers simply slap on some new lights and bumpers to justify a price hike. However, for the
S3 Sedan
, this isn't the case. Yes, the lights and bumpers have been updated. You now get full LED head lights, as well as a restyled front bumper (with the honeycomb pattern on the air inlets) and rear diffuser. But there have been other changes, too.
The car's hood has actually been resculpted such that the car's nose actually dips further downwards, for an added sense of sleekness. Overall, though, the S3 Sedan retains its heavily understated look (especially when painted in black as our test car was).
Move into the highly accomplished and well-equipped interior, and you will notice more changes. The most obvious one is the Audi Virtual Cockpit, a fully digital instrument cluster that first made its debut on the
Audi TT
. The 12.3-inch high-resolution TFT screen can be configured to have a S-specific single central tachometer with integrated speed display (much like an
R8
). Functions like a boost gauge and an onboard lap timer will also appeal to the keener drivers out there.
The only real knock we have on the car is that you don't get a reverse camera, which is headscratching for a $234,900
(as of 3
rd
March) car.
But that's all just cosmetics. Is the car any different mechanically?
Well, yes. This facelifted model gets a new seven speed S-tronic transmission (one gear more than before), and also features a coasting feature. Basically, when you come off the throttle, the transmission shifts to freewheeling for maximum fuel savings (possible between 55 and 160km/h). The point of all this, of course, is efficiency. On paper, Audi says the new model will do 15.4km/L, and improvement of 0.9km/L. In reality, we managed a solid 10.9km/L, 0.8km/L better than the pre-facelift model.
Put the S3 in comfort mode and it does a decent passing imitation of an A3, albeit one with a gruntier engine that emits a constant bassy gurgle. It's a compact sedan that's easy to drive, with tons of power on tap and a sweet ride.
Where the S3 really impresses is when you decide to push it hard, especially in Dynamic mode. The steering firms up, the gear shifts quicken, the quattro system shuffles power across both axles to give you maximum grip, and flaps in the quad exhaust pipes open up to give you more noise.
Driven sensibly, the S3 emits a growl that hints at its more maverick character. Find an open road and give the car the beans, and it rockets forward with effortless ease. The engine also makes an absolutely lovely noise past 3,500rpm, and crescendos to a regal roar as you chase the red line.
Wrap the S3 around a couple of corners and the car's sporty character is abundantly clear. The turn in is sharp and crisp, and the presence of dynamic quattro all-wheel drive means that the S3 grips harder than that annoying, clingy girl that refuses to let go after you say no.
Sounds like a halfway house between an A3 and a RS3…
You might be wondering, isn't performance the job of the
RS3
? Admittedly, that is technically true. The RS3 is a much more serious performance package, complete with a gamut of high-tech features. However, we actually prefer the S3 for its usable performance on a daily basis. The S3's power is impressive without ever being scary or shocking, and the ride quality is more forgiving compared to the RS3. As a whole, it's less intimidating whilst giving up very little in terms of the driving experience.
The beauty of this car, then, is its ability to comfortably be both an easy sedan and a sporty sedan. Its understated exterior looks belie a hearty, rousing little racketeer of a compact sedan. It's for the ninja fanatic - sensible by day, stealthily bonkers at night.
We admit that the S3 Sedan will be a niche choice for a discerning group of drivers. In a market with increasing numbers of shouty 300bhp hot hatches with engorged bumpers and 'look-at-me!' spoilers, the S3 Sedan is a understated, perhaps more grown-up alternative. Kudos to those that make this choice. It's a great, great one.
Engine Type
:
4-cylinder in-line 16-valve Turbocharged
Horsepower
:
216kW (290 bhp) / 6500 rpm
Torque
:
380 Nm / 5300 rpm
Transmission
:
7-speed (A) S tronic
Acceleration (0-100 km/h)
:
4.8sec
Fuel consumption
:
15.4 km/L