---
Audi's smallest sedan is no zero as it steps up its game to take on its serious contenders.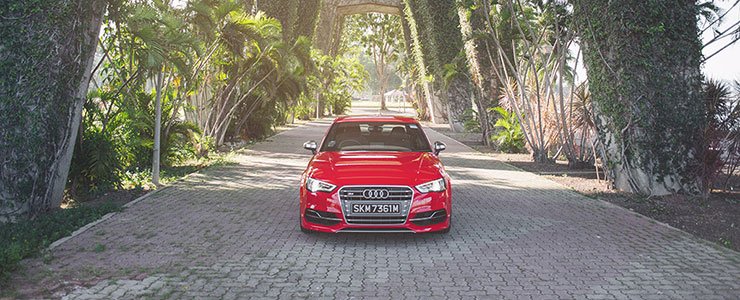 We tested the
S3 Sportback
back in February and it was nothing short of captivating. It looked right, drove right and felt right. So when the S3 Sedan came along, there was almost a need to feel that it wasn't going to get any better than its hatchback brethren.
We were wrong.
We reckon buyers of this Audi should feel every bit special. Not only because the S3 Sedan doesn't share a single body panel with the S3 Sportback, the car cloaked in bloody red here has, in theory, no other direct competitors in the local market at the moment.
The $300,000
CLA 45 AMG
is more expensive and a notch more hardcore than the S3 Sedan while the recently launched
BMW M235i
aims at a totally different group, with its coupe body style.
Of course, you could also consider the provocative
Subaru WRX STI
, too, which is some $47,000 lesser but the car only comes with a three-pedal-and-a-stick-shifter configuration.
So after a couple of pints of beer and 90 minutes of non-stop argument (which is just about the duration for one World Cup match), we concluded that it makes the most sense for the car to be discussed against its Sportback sibling. And yes, there are differences, both subtle and obvious.
Exterior
For starters, the obvious one has to be the added butt. Instead of having a back end rooted right into the Sportback, Audi started from scratch with its sedan, which explains the car's coherent and polished look.
From tip to tip, the S3 Sedan is, thus, 215mm longer, 19mm wider and 9mm lower than the S3 Sportback.
Impressively, the car looks understated, with barely a trace of its potential prowess. To the casual observer, the S3 Sedan could well pass off as the regular
A3 Sedan
, although there are some telltale signs like the honeycomb grille, aggressive-looking 18-inch shoes, subtle spoiler and the sporty quad exhausts.
This model is no longer being sold by local distributors
Engine Type
:
4-cylinder in-line 16-valve DOHC Turbocharged
Horsepower
:
213kW (285 bhp)
Transmission
:
7-speed (A) S-tronic
Acceleration (0-100 km/h)
:
5sec
Fuel consumption
:
14.5km/L