With its new platform and a luxury cabin befitting for royalty, the fifth generation Lexus LS flagship model takes on its European rivals.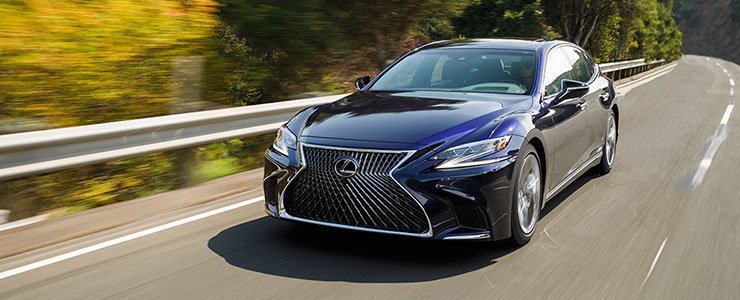 It seems you don't need to book a first-class ticket on a full-fledged airline carrier to escape the stressful scenes of Singapore for a little R&R.
You just need to step into the all new fifth generation
Lexus LS
- the luxury carmaker's flagship sedan that's capable of plucking you out of the hustle and bustle of everyday mundane processes.
Immaculate attention to detail
Lexus has outdone itself once again by taking luxury to a whole new level with its flagship model. The cabin of the LS, which is inspired by the concept of
omotenashi
- a term that refers to Japanese ideals that revolves around hospitality - is unquestionably inviting.
Every single panel, right down to every inch and corner of the cabin feels like it has been immaculately placed together. Run your fingers through hidden areas of the car such as underneath the steering or below your seat and everything feels good to the touch.
Further enhancing this feel-good quotient is the door trim that sports a specially and intricately cut glass that's suitably backed up with the hand-pleated fabric side door panels. Together, they form a three-dimensional design that will make even the most demanding critic go ooh and aah.
Alas, this said trim will not be available in Singapore.
No matter, though, because the Lexus LS manages to shine like a diamond with the seamless integration of fine master craftsmen artistry and modern design, while taking care of your every whim with exceptional service.
For instance, you can take the back seat after a long and rough night and make full use of the massage and full recline functions at a push of a button to catch up on some lost sleep.
Should you decide to be the driver, the largest-in-the-world 24-inch head-up display that will come standard in Singapore, together the with blind spot monitor and Lexus Safety System Plus, which consists of radar cruise control, lane departure alert and adaptive high beam system, will help ensure you're safe on the road at all times.
The quiet and rebellious one
The sheet metal is just as highly alluring, if not a little rebellious. From tip to tip, the car is now longer, lower, and wider than the outgoing model. But it isn't the size that will catch your eye. Instead, it's its menacing looks that will make your heart skip a beat, mouth drool a tad and eyes squint a little.
The hybrid variant that I drove wasn't equipped with the F Sport kit, but it remains to be eye-catching and appealing all the same.
The angular face is dominated by Lexus' signature hourglass-shaped spindle grille, which boasts a unique mesh texture that appears to shape shift under different lighting and angles. The headlamps are equally striking, underlined by LED daytime running lights and a trio of lamps above.
All these add up to make the styling of the Lexus LS positively dramatic and a considerable step forward compared to its predecessor and its peers in its segment.
New body in and out
Holding the sheet metal in place is the new GA-L (Global Architecture - Luxury) that also underpins the recently launched
Lexus LC Coupe
.
It's lighter and stiffer than the outgoing
LS600h
and you sense it the moment you're on the road. You feel everything on the tarmac, whether you're on Eco, Comfort, Sport/Sport + or Customised driving mode. But that's not a complaint because the ride is never to a point of being uncomfortable.
Credit for this comfort also goes to the silky marriage of the 3.5-litre V6 to the continuously variable transmission, which replicates the feel of the 10-speed automatic transmission that's also featured in the LS500 Turbo.
While the performance and low coefficient of drag figures of 354bhp and 0.28Cd do play their part in making the LS go from nought to hundred in a respectable 5.4 seconds, we will have to understand that driving this car goes beyond numbers.
Experience amazing in the epitome of luxury
It's more about understanding that Lexus has the ability to not just create cars that are infinitely more reliable that the Germans and evidently one of the most unparalleled cars in the business, but also a carmaker that's capable of creating machines that shake things up and inject into the established order an adrenaline blast of difference while building a world of its own.
Of course, it's clear that Lexus isn't known to make time-smashing and road-crushing cars that are intended for the
Nurburgring
often, but its road-going cars are undoubtedly meant for a different class of drivers and, of late, are kinetic and uplifting.
In that sense, the Lexus LS that you see here is no exception. Even with the huge grille and large air intakes up front, it'll look more at home and comfortable on the streets of Orchard Road than a race track. But do not, for a second, doubt its ability to take on the
Audi A8
, the
BMW 7 Series
and the
Mercedes-Benz S-Class
.
Work of art on wheels
There's something magical about the Lexus LS. It's been a work of art on wheels that's been around for 28 years since its induction back in 1989 when Lexus launched the first generation LS.
The only challenge for Lexus, then, isn't about being better than its peers. Instead, it only has itself to beat by pushing itself to further enhance its emotional stand.
Given how things are today, with lifestyle and artistic talent superseding the old school rules of carmaking in significance, being the best in its class is a real possibility for Lexus.