Enormous cabin space and excellent ride quality make the latest Mercedes-Benz S400L Hybrid one of the leading cars in its class.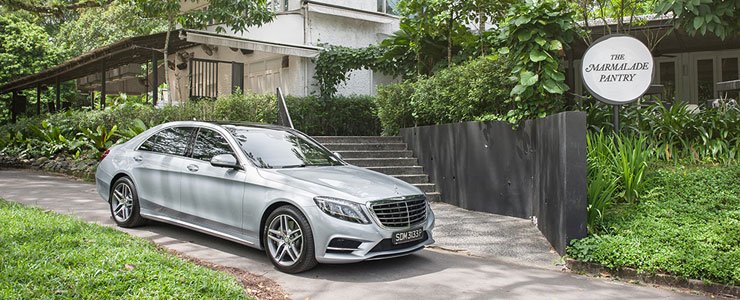 It's seldom the case where carmakers are able to find a sweet spot that's speedy, stylish and stingy in their hybrid vehicles.
However, German carmaker Mercedes-Benz may have found the answer to our problems. Competing against the
Lexus LS600h Hybrid
and the
BMW ActiveHybrid 7
, the new S-Class Hybrid that we have here is one of the best examples of a snazzy luxury car the brand can produce.
Served as the flagship model for Mercedes for over fifty years in its various incarnations, the S-Class has debuted many of the company's latest innovations, including drivetrain technologies, comfort upgrades as well as safety systems.
And for the latest S-Class, it's no different.
Exterior
While the previous generation comes across as slightly bloated, thanks to swelled fenders and over-sculpted detailing, the current S-Class (codenamed W222) appears to be more dignified and athletic. Thus, it's more balanced and hunkered in a way its predecessor never accomplished before.
But the S-Class is more that just your improved looks. Technological advancement and the nature of relentless progression from the design team have brought the S-Class to a new realm of possibility. The headlamps, for starters, have over 110 LEDs while the taillights consist of some 70 LEDs (excluding rear fog lamps).
While it's common to hear carmakers boast about their cars being the first in the world to achieve something, in this case the S-Class doing without a single light bulb in the car, it's another thing when the carmaker can actually achieve it.
Other than the bolder design, the dimensions of the car have been altered. At 5,246mm x 1,899mm x 1,496mm (L x W x H), the S-Class has grown in all directions. While this may affect driveability in a way or two, the wider front and rear tracks (24mm and 31mm wider than its predecessor) help to place the car on the tarmac with more confidence.
It's clear that Mercedes-Benz took the threat in the flagship segment seriously, considering the S-Class has been designed in such a way that will force brands like BMW, Audi, Jaguar and Bentley back to their drawing boards.
This model is no longer being sold by local distributors
Engine Type
:
V6 Turbocharged
Horsepower
:
245kW (329 bhp)
Transmission
:
7G-Tronic Plus (A)
Acceleration (0-100 km/h)
:
-
Fuel consumption
:
15.2 km/L