While Audi has tweaked its looks, the headline change of the A1 Sportback has taken place where it really counts - under the bonnet.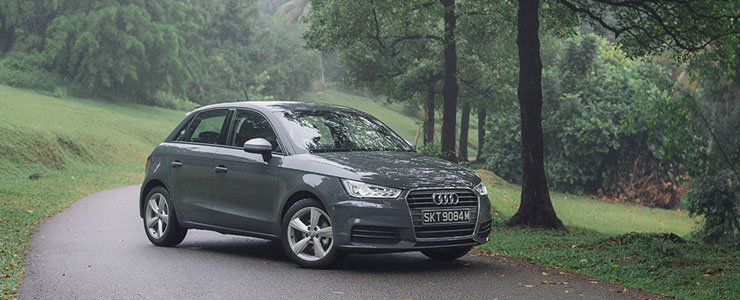 As of 14
th
September 2015, the car you see here will set you back at $122,000 (after a CEVS rebate of $15,000). In other words, despite high prices of automobiles in Singapore, you don't exactly have to dry up your bank account if it's a premium supermini you're looking for.
Of course, you could also consider the 1.2-litre
MINI One 5-Door
, which costs just a couple of thousands more than the Audi A1 Sportback or the 1.0-litre
Ford Fiesta
that proves that - like chilli padi - cars do not need to be big in order to be spicy.
However, like a quality Swiss-made watch that sets expectations or a pair of custom-made Oxford leather shoes that sets the tone of your taste, the four-ringed marque remains to be more desirable than the other two said cars.
Up close and Personal
While styling changes aren't as significant as the engine, necessary tweaks on the grille, headlamps and taillights were made to the A1 Sportback to enhance its looks. As such, the supermini hasn't lost the sense of style that has been associated with it since the predecessor was
launched
in Singapore back in 2012.
Like wearing a nicely-crafted Swiss watch, being in the A1 Sportback has some boasting rights. Unlike most facelifts where improvements are made to current features, the car here sports a spanking new electro-mechanical power steering system where it reduces power assist as the car's speed increases, so as to save energy.
Like all Audi cars we've come to know, the cabin is a work of art, with an immaculate attention to details and a cosy ambience to lift even the most stressful of moods. Build quality is second to none in its class and it feels every bit a proper luxurious car even if it lacks certain 'premium' features such as electronic park brake button (it's a proper handbrake in this car) and leather upholstery (the car comes with factory fitted fabric upholstery, which we actually prefer).
Space wise, the baby Audi remains to be generous for two in front but like before, the seating angle at the rear continues to be a tad upright. Still, head and legroom is adequate for four passengers and their
barang barang
in the 270-litre deep boot space.
This model is no longer being sold by local distributors
Engine Type
:
3-cylinder in-line 12-valve DOHC Turbocharged
Horsepower
:
70kW (94 bhp) / 5500 rpm
Torque
:
160 Nm / 3500 rpm
Transmission
:
7-speed (A) S-tronic
Acceleration (0-100 km/h)
:
10.9sec
Fuel consumption
:
22.7 km/L