The more brutal Spanish cousin of the Volkswagen Golf GTI, the Seat Leon Cupra's recipe for fun involves a whopping 290 horses and 350Nm of torque. It's also an effortlessly quick and precise car, making it easy to drive fast. Point the Cupra into a corner and it obeys with nary a complaint. The Cupra also exudes a subtler, more grown-up vibe that's great for hot hatch buyers who prefer keeping a low profile.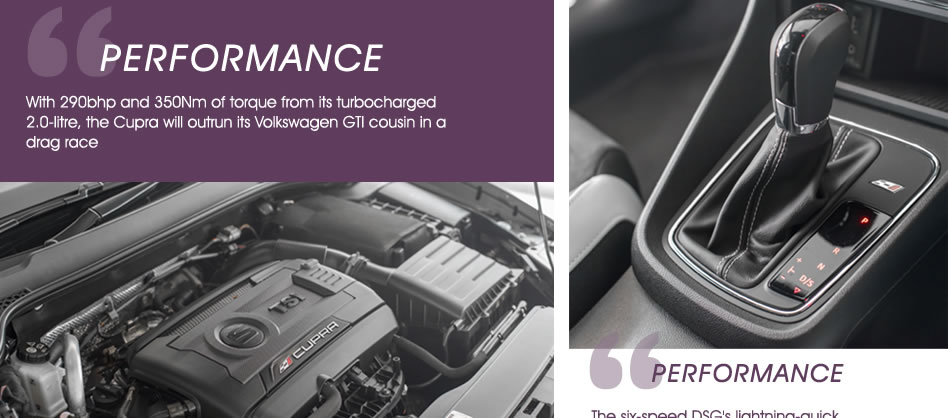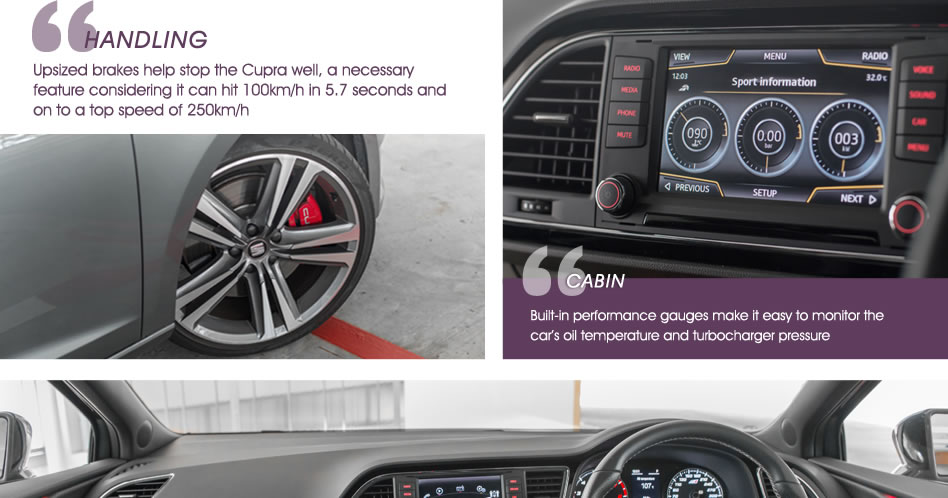 This car just goes, it's a beast on the open road and sticks to the ground around the corners.
But when the time comes, the Leon Cupra can be matured and tame. It turns into an ordinary Leon that hauls the family around with ease.
The Cupra is a sharp looking car too, maybe cause it looks similar to the Golf (just saying).

»

Read More

Essentially a Volkswagen Golf GTI but quicker and more powerful, this is the Seat Leon Cupra, the German hot hatch's more brutal Spanish cousin.

Thanks to a healthy 290bhp and 350Nm of torque, the Leon Cupra propels off the line and up to 100km/h in a blistering 5.7 seconds.

It uses the Volkswagen Group's 2.0-litre turbocharged petrol engine but Seat's engineers have tweaked the boost pressure, altered the cylinder head and generally fiddled around under the bonnet to give all the extra power.

As expected, the car's six-speed DSG's lightning-quick shifting allows your focus to be placed elsewhere like on braking and throttle control, especially around corners.

The Leon Cupra also has clever engineering bits integrated, which make piloting a high-powered front-wheel drive hatch a gratifying rather than a frightening experience.

It employs a front differential lock, progressive steering, Volkswagen's dynamic chassis control and, of course, various switchable drive modes, including an individualisation option.

These mean that the Leon Cupra is confident and capable when driven fast, but can also settle down and cruise quietly and comfortably on the highway when needed. You don't have to drive this thing flat out all the time but it responds jolly well if you do.

Inside, the Leon Cupra feels truly premium while the controls are logically laid out and easy to navigate. It also boasts the same generous 380-litre boot as its GTI cousin.

Most importantly, at time of writing, the Leon Cupra is more than $10,000 cheaper than the Golf GTI, which makes it an extremely attractive proposition and a definite winner in its class.