---
Volkswagen is showcasing its Sharan and Passat Variant emergency vehicles proposals at the RETTmobil 2011 show in Germany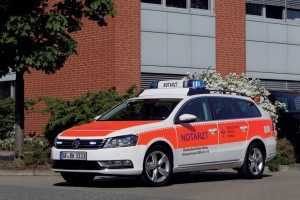 The Sharan and Passat Variant emergency vehicles are part of Volkswagen's line-up that will be on show at the RETTmobil 2011 show in Fulda, Germany. RETTmobil is the leading European trade show for emergency services and mobility, and will also showcase emergency vehicle models from BMW, Mercedes-Benz and Audi.
The Sharan emergency vehicle on display at the show will be powered by a 2.0-litre TDI engine that produces 170bhp, and is mated to a six-speed DSG gearbox. The MPV features a special signal system with LED technology and is fitted with a remote speaker. The Passat Variant emergency vehicle is also fitted with the same engine as the Sharan, but adds four-wheel-drive capability. Both cars are painted Candy White and come with front and rear flashing lights.
Aside from the Sharan and Passat Variant, Volkswagen is also bringing a Touareg emergency medical car and a Touran police car to the show. The Touareg medical car is fitted with a 3.0-litre diesel engine with 245bhp, and has blue front and rear flashing lights plus a special signal system with LED technology. The Touran police car meanwhile comes with an accident data storage system and a run-safe mode that allows the engine to function even if the keys are removed from the ignition.
Volkswagen says that all their emergency vehicles have a special suspension tuned to the specific needs of their job. Other features include headlight flashers, which improve the visibility of emergency medical vehicles, and standard horn speaker, which makes the emergency vehicle easier to notice in traffic, while also lowering the noise level in the cabin.
Source: Volkswagen