---
The Mazda5 is a handsome people carrier with electric sliding doors and an intelligent seating arrangement. So what do Julian and Nicholas reckon?
The Kiasu Element
Like purchasing most tangible products, when it comes to getting a car, getting a bang for my buck is important. It's not just about having a couple of extra features that some of my friends don't, but rather, it's about the pride and joy of purchasing something that would elicit the "wahs" and "cool" from people around you. You don't want to lose out and you don't want to lose face and most importantly, you don't want to lose too much money while achieving your goals.
This brings me to the Mazda 5.
Although I always practice honesty and 'neutrality' when it comes to reviewing a car, I have to admit that I have a soft spot for the compact MPV. I neither work for Mazda nor was I bribed by press gifts and I also have a fridge full of Heineken and Kilkenny, so do please take my praises with a spoonful of salt.
There's a selection of rides to suit all wallets and tastes. You could opt for the likes of opulence of a Land Rover Discovery 4 or an Infiniti FX37, or you could simply get down to the basics of a budget-friendly route - in which case you may just find yourself staring at the recently launched Mazda 5.
The latest compact MPV from Mazda has a sleek styling, which is an attribute not associated with any of the MPVs in its segment. It's also unique because it's the only car in Mazda's line-up to feature the brand's "Nagare" design language which can be seen by either sides of the car. It's almost a love it or hate it look, with three creased lines flowing across the electric side doors. In a way, you'd be able to boast about the joker's grin upfront and the uncommon design about the car to your peers who are probably driving a Jazz or perhaps a Lancer.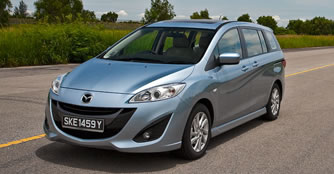 The Mazda 5 is a work of art, with its modern-designed sheet metal
In terms of its space, sedan drivers would probably squeeze in a maximum of six occupants (and that's really pushing it) but the Mazda 5 could haul a maximum of seven without even compromising on space and comfort. That's what MPVs are for. The Mazda 5 just does it in style.
But here's the deal - when it comes to manoeuvring in tighter spaces (yes it's common in Singapore) around town or multi-storey carparks, driving an MPV isn't exactly the best choice. Perhaps that's why hatchbacks are becoming increasingly popular amongst consumers. When you're squeezing down a small side street at say places like Purvis Street or Arab Street to grab a bite with your family, you'd wish that you weren't driving a full-size MPV. That's when you'd be thankful for Mazda 5's smaller footprint. Essentially a smaller version of the Mazda 8, the 5's smaller size makes it easier to manoeuvre in urban spaces.
At the price of $158,988 (as of 5th April 2012), the compact MPV from Mazda is bound to make your money's worth. It may not have the kind of plush leather or top notch materials used in a BMW or a Lexus but what it has is plasticky bits that feels solid to the touch. There's a sense of vault-like security that's essentially what you would want when ferrying your family from point to point.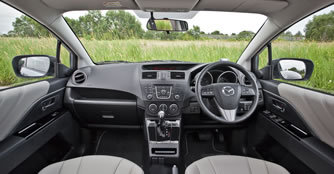 Plasticky bits may fill the cabin but it feels secured
What's really neat is the jump-seat arrangement that pops up between the second row of seats to provide for the third person or the short-term accommodation for drinks. You could probably impress your relatives and friends with the 5's design specialty by folding the centre seat to suit the appropriate occasion.
On that count, you may lose out to your peers who don't care much for engineering and design trickery but where it stands firm is the way it drives. On the go, the Mazda 5's chassis, brakes and steering enhance the marque's reputation as a builder of dynamic vehicles - as exampled by the MX5, RX-8 and the latest CX-5. Throw this 1.6 tonne machine round the bends and you'll be forgiven when you forget this is a people carrier. The steering is wonderfully precise, which is quite a feat for dad's taxi.
Although it loses out to the Stream or Odyssey, the payoff is credible body control which makes the 5 very agile for an MPV. It's almost like driving a conversion van in a world where the First Law of Motion doesn't apply.
Being a Kiasu Singaporean, I reckon the Mazda 5 aces as a practical, comfortable, well-appointed, and fuel-efficient compact MPV, as well as being a fun car to drive. It might not be as posh as some its peers but it certainly does win a lot of its other peers in its segment.