---
The all new Hyundai Elantra may boast an impressive spec sheet, but it is the car's overall maturity and thoughtfulness that really push the envelope of what a bread-and-butter car can offer.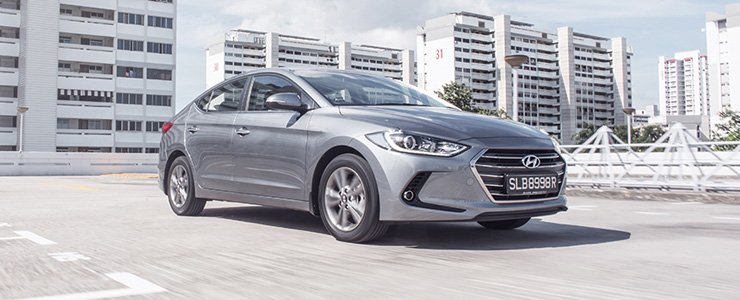 It's hard to think of any car in Singapore as 'budget' - high COE prices and taxes guarantee a significant hole in anyone's pocket. It's perhaps better to think of such so-called budget cars as 'bread-and-butter' vehicles, cars that offer a decent amount of features and daily drivability at a reasonably 'bargain' price that sits at the bottom end of the price spectrum.
The
Hyundai Elantra
has long been positioned as such a car, and has found great success. Introduced in 1990, the Elantra was a global best-seller for the brand, especially with the immensely popular fourth generation model called the
Avante
. But these days, with manufacturers finding ways to increasingly pack more features into these bread-and-butter cars, it's not enough to just have a decent box on four wheels.
Now in its sixth generation, and with more cars than ever before to duke it out with in its segment, can the Elantra exceed expectations and offer more than it has been bargained for?
Exterior
The Elantra has always been visually striking, with its sweeping lines creating an impression of fluidity and motion. This brand new car retains the same good-looking sheet metal, but ditches some of the more curvaceous lines for sharper, neater ones. Slightly longer (40mm) and wider (25mm) than before, the new model adopts a more athletic stance on the road.
The front end has now been completely restyled for a more modern and aggressive look. A massive radiator grille (Hyundai calls it a 'shark's mouth'), pointier head lights and restyled fog lights with front wheel curtains give the Elantra a face that breeds a European similarity.
A strong character line accentuates the car's striking profile, and the sharp lines move across the entirety of the body and conclude at the rear, with a ducktail boot lid. The rear combination LED taillights also add a level of stylish detail. Also new are the LED door handle approach lights, which light up as you approach the car. Quite
atas,
we reckon.
This model is no longer being sold by local distributors
Engine Type
:
4-cylinder 16-valve DOHC Dual CVVT
Horsepower
:
94kW (126 bhp)
Transmission
:
6-speed (A)
Acceleration (0-100 km/h)
:
11.6sec
Fuel consumption
:
15.6 km/L