---
The new Honda Civic 1.6 serves up a steady, familiar and wholesome diet of comfort, practicality, daily usability and sweet driveability.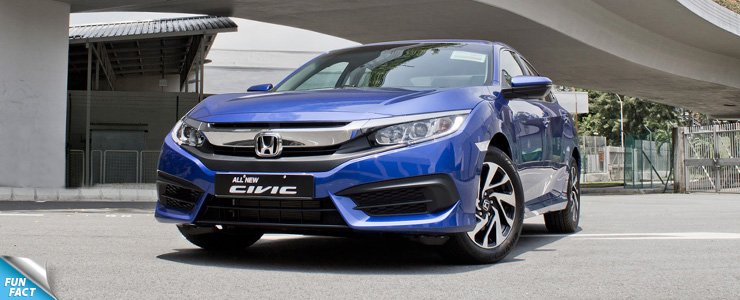 The new Honda Civic? Haven't we already reviewed this car?
Yes, we have recently reviewed the new headline-grabbing
Civic 1.5 Turbo
.
This model you are looking at comes amidst much less fanfare. Its innards are more familiar and traditional - a 1.6-litre naturally aspirated engine. While the new 1.5 Turbo model is busy being splashed on big billboards, the new
Civic 1.6
continues the long lineage of Honda's compact sedans powered by a 1.6-litre VTEC engine.
So, new body, old engine?
Yes, that is sort of true. The 1.6-litre four-cylinder SOHC i-VTEC engine is a familiar one, the same R16 engine carried over from the eighth generation FD model. With 123bhp and 152Nm of torque, the engine is smooth and easy to use, but will need coaxing for added punchiness.
The part of the drivetrain that is certainly new is the transmission. Like the 1.5 Turbo, the Civic 1.6 now comes equipped with Honda's Earth Dreams Continually Variable Transmission (CVT) - simply to reduce carbon emissions and deliver a blend of performance and efficiency.
Now, we are the first to admit that we aren't fans of CVTs. Most tend to be unresponsive and generally annoying to use. However, Honda's Earth Dreams CVT bucks this stereotype. It is actually surprisingly good, and is a welcome surprise. It's smooth and unintrusive and makes light work in heavy traffic, which is becoming a norm on our roads.
Can kui VTEC?
The problem with a CVT is that it's a lot harder to push the engine to its limits. If it's power you want, you would be better off looking at the 1.5 Turbo. This Civic is much more concerned with efficiency, and in this respect it is certainly civilised on the wallet. We managed to do 14.4km/L, which is just 0.5km/L off the official figure.
Driven sensibly, the engine is quiet and refined, and pulls effortlessly. Compared to the Turbo, what it lacks in power, it makes up for in refinement and quietness. The Turbo is rather noisy and intrusive, whereas in the 1.6 you never really hear or feel the engine working hard, even as you begin to break three digits on the speedometer.
This model is no longer being sold by local distributors
Engine Type
:
4-stroke SOHC i-VTEC Water Cooled
Horsepower
:
92kW (123 bhp) / 6500 rpm
Torque
:
152 Nm / 4300 rpm
Transmission
:
Earth Dreams CVT (A)
Acceleration (0-100 km/h)
:
11.6sec
Fuel consumption
:
14.9km/L