The new Honda Civic gets a powerful new turbocharged VTEC engine, is a huge step up from before and is ready to right the wrongs of the previous car.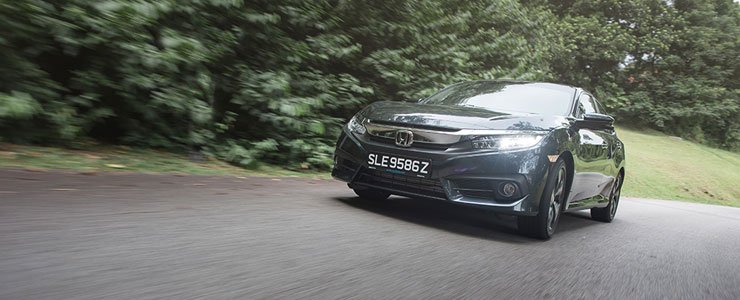 Change. Most people fear the idea of it, while a daring few embrace it. The only way to make sense out of change is to plunge into it, move with it, and join the dance.
Change can be simple and evolutionary, such as our new review formats. Change can also mean a huge revolutionary step forward; such is the case of the new Honda Civic.
There's a ton of hype around this new car, namely because it's a shot at redemption for Honda. The
previous generation
Civic drew critical ire, particularly for its uninspiring design and lack of verve, losing out in sales and demand to rivals like the
Mazda3
and the
Toyota Altis
.
Today, the 2016 Civic promises to bring the Japanese marque's A-game back into the increasingly competitive sedan market.
Downsized engine, upsized power
As much as we enjoyed Honda's traditional VTEC engines, downsizing and turbocharging, for economy and performance is proving to be the way forward.
We previously experienced Honda's responsive new powertrain in the
Jade RS
but unlike the 148bhp and 203Nm of torque pumped out by the Jade, the Civic's
DOHC VTEC Turbocharged
1.5-litre produces 170bhp and 220Nm of torque - that's 2.4-litre potential, more compared to even the Mazda3's 2.0-litre SkyActiv-G.
And paired to the gutsy 1.5-litre unit is Honda's creamy continuously-variable automatic, which has a 'Sport' and semi-automatic mode for increased driving fun.
Flip the powertrain into 'Sport' mode and the engine ups its revs. Pedal to the metal sends the Civic from 0-100km/h in 8.6 seconds and in spite of a tiny bit of turbo lag, there's enough mid to high range punch for overtaking and staying ahead.
But don't expect this Civic to perform like a
Type R
, of course. Driven maturely, the engine is quiet and returns a fuel economy of 15.4km/L.
Dynamically speaking…
It isn't just a car that's capable in a straight line either. The Civic is sharp, precise and composed around twister tarmac and at the same time, soaks up bumps in the road graciously.
Honda has also improved the car's steering setup. It's now a far more desirable unit; meaty and responsive.
We found it to be the ideal compromise for practical city driving, in and out of carparks, yet very capable on open stretches of roads.

Engine Type
:
4-cylinder in-line 16-valve DOHC VTEC Turbocharged
Horsepower
:
127kW (170 bhp) / 5500 rpm
Torque
:
220 Nm / 5500 rpm
Transmission
:
Earth Dreams CVT (A)
Acceleration (0-100 km/h)
:
8.6sec
Fuel consumption
:
16.9 km/L