It's big, practical, comfortable, fuel economical and more surprisingly, quite fun to drive. Welcome, ladies and gents, to the Seat Alhambra.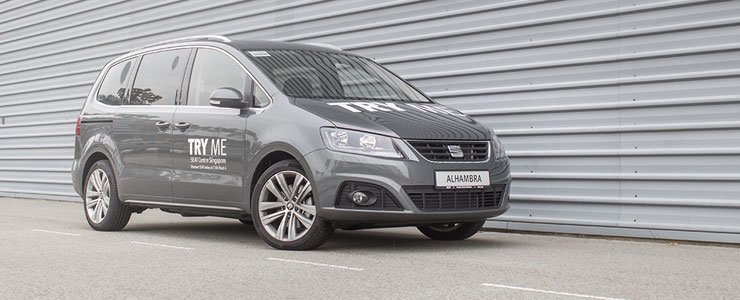 The easiest way to understand what the Seat Alhambra is, is to imagine it as a slightly more affordable
Volkswagen Sharan
. This means that it's a highly functional, very spacious, and capable seven-seating family mobile. In fact, it's one of, if not the best Multi-Purpose Vehicle (MPV) we've tested in awhile.
It's a proper seven-seater.
Seven-seater buyers have a ton of options today. There are bounteous cars, which claim the capacity to host seven. But, when six or more average-sized people have to be transported around town in comfort, the car often disappoints.
That, however, is not a problem for this Seat. The third row is big enough to cater for even your lankiest of friends.
The car isn't just big on space but its seven seats are also foldable in many potential layout configurations. When you're driving big items instead of people, simply fold the rear two rows down and you'd be enjoying up to 2,430 litres of cargo capacity.
German cabin ergonomics are evident

Up front, the Alhambra provides a comfortable place for the driver and shotgun. Electric seats mean easy seat height adjustment and once comfortable, the driver gets a great view forwards.
Plus, thanks to Volkswagen's touch, the dash is clearly laid-out, controls are highly intuitive, while fit and finish is superb.
Oh! And, it drives quite nicely, too!
Despite its reserved exterior design and chunky proportions, the Alhambra seriously surprises when you're rushing to the grocer's.
The car's dimensions and near two-tonne weight mean it's obviously no hot hatch when cornering, but it's quite enjoyable to drive. Directional changes are sharp, body lean is minimal and the suspension irons out bumps and ruts in the road capably.
At the heart of this Spanish MPV is a very German 2.0-litre turbodiesel, which churns a respectable 184bhp and a great 380Nm of torque to the front tyres. This power lets it charge from 0-100km/h in just 8.9 seconds.
The only engine variant available for the Alhambra in Singapore now is a 2.0-litre turbodiesel but fret not, diesel engines today are more refined and you don't quite hear the signature diesel clank once the engine warms up and you get cruising.
Even under abuse of my heavy right shoe, the car returned fuel economy figures of 14.5km/L, which is respectable for its weight of over 1.8 tonnes.
Brand conscious?
At time of writing, the Seat Alhambra Diesel 2.0 TDI DSG Style costs $168,000 - just $1,900 cheaper than its Volkswagen Sharan sibling. But, even at this price, for the space, practicality, build and performance you get, it's quite bang-for-buck.
This model is no longer being sold by local distributors
Engine Type
:
4-cylinder in-line 4-valve TDI Turbocharged
Horsepower
:
137kW (184 bhp) / 4000 rpm
Torque
:
380 Nm / 3000 rpm
Transmission
:
6-speed (A) DSG
Acceleration (0-100 km/h)
:
8.9sec
Fuel consumption
:
18.8 km/L