---
The Land Rover Range Rover Sport SVR is a beastly SUV that offers the promise of something special.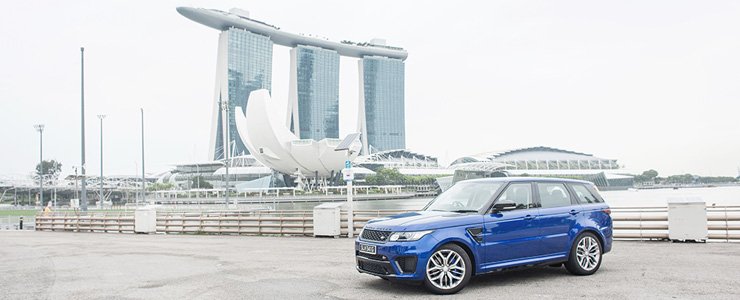 What is a badge? It's a calling card, a way to tell people who or what you are. It's a symbol of something. Well, in Jaguar Land Rover's (JLR) case, its 'SVR' badge is a symbol of something a little bit special.
So Land Rover added a badge to the Range Rover Sport and want to charge people even more?
That's quite far from the truth, actually. This particular model isn't just some trim level special - it comes from JLR's Special Vechicle Operations (SVO) unit. SVO produces a wide range of unique, bespoke vehicles, including the Range Rover
SVAutobiography
and even
armoured vehicles
. The 'SVR' badge specifically refers to high-performance variants, kind of like the equivalent 'AMG' or 'M' badge. It is presently pegged onto two cars - the recently launched
F-TYPE SVR
, and this one.
How is this different from a typical Range Rover Sport?
The SVR is much more aggressively designed - from the darkened head lights and the unique grille and bumper at the front, to the specialised rear spoiler and quad tailpipes, the SVR cuts a beastly presence.
Inside, the most noticeable thing is the full bucket seats at the front and the semi bucket seats at the rear. This is a car that makes its sporting pedigree abudantly clear - our car also came specced with interior carbon fibre trim.
Beyond that, though, its still very much a top notch Land Rover product. This Sport Utility Vehicle (SUV) has got all the bells and whistles you'd want - panomaric sun roof, Meridian Surround audio system, Park Assist, Adaptive Cruise Control, etc. It's most definitely a comfortable place to be in.
This isn't some stripped out track special - it's a proper luxury SUV that's been made a little madder.
This model is no longer being sold by local distributors
Engine Type
:
V8 Supercharged
Horsepower
:
405kW (543 bhp) / 6500 rpm
Torque
:
680 Nm / 4000 rpm
Transmission
:
8-speed (A)
Acceleration (0-100 km/h)
:
4.7sec
Fuel consumption
:
7.8km/L