The new Audi A5 is an easy-to-drive, easy-to-live-with everyday coupe.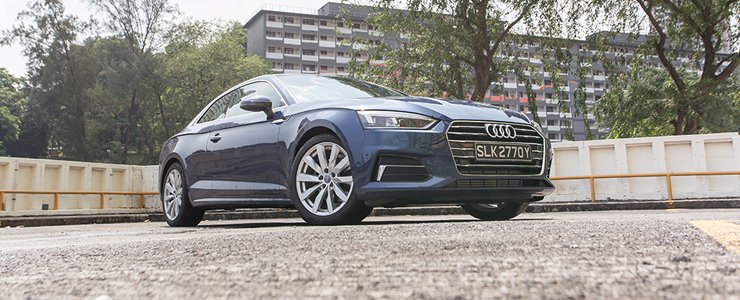 Audi prefers the term 'premium' over 'luxury' when referring to its cars, especially when it comes to the second generation A5 Coupe.
What's the difference? Well, 'luxury' tends to be associated with comfort while 'premium' refers to an object of exceptional quality.
So… what's 'premium' about this coupe?
The A5 Coupe's understated styling is attributed to the German marque's attention to detail, evident through design elements like an uninterrupted line, which runs from the clamshell bonnet to the taillights. Up front, a chrome radiator grille with black accents accentuates a sleeker looking face.
The same level of craftsmanship holds true in the A5 Coupe's cabin. Bits and pieces fit together nicely and everything feels well-built.
Controls feel robust and are easy to reach from comfortable electric seats wrapped in soft leather, which offer plenty of space for driver and front passenger. Surprisingly for a coupe, rear seats in the A5 are spacious, too, for two Asian adults.
All tech-ed out
A snappy, intuitive and easy-to-use 8.3-inch
Audi MMI
navigation plus centre console takes centre stage in the A5 Coupe.
It is controlled by a round rotary push button, which doubles up as a touchpad capable of capturing handwriting inputs for entering destinations into the system's navigational function.
One feature that stands out in the A5 Coupe, and is seldom found in in-car navigation systems, is Google Maps - which is only available when you have a SIM card installed. Audi has overlaid the app onto its native maps, which are stored in a local hard drive located somewhere near the glovebox.
Searching for a new location or entering a new destination into Google Maps is convenient and quick, thanks to the MMI's round rotary push button.
Efficiency is key
Getting more power out of the 2.0-litre TFSI, which puts out 190bhp and 320Nm of torque, wasn't the main goal with the A5 Coupe.
Instead, Audi went with what it calls a B-cycle engine, which utilises a higher compression ratio. This results in a higher level of pressure during combustion and further increases the engine's efficiency. A shortened compression phase also means the 2.0 TFSI only has to compress as much fuel as a 1.4 TFSI.
This model is no longer being sold by local distributors
Engine Type
:
4-cylinder in-line 16-valve Turbocharged
Horsepower
:
142kW (190 bhp) / 6000 rpm
Torque
:
320 Nm / 4200 rpm
Transmission
:
7-speed (A) S tronic
Acceleration (0-100 km/h)
:
7.3sec
Fuel consumption
:
18.2 km/L