It may be heavier and thirstier than its two-wheel drive brethren, but the 530i xDrive doesn't fail to entertain with its generous grip.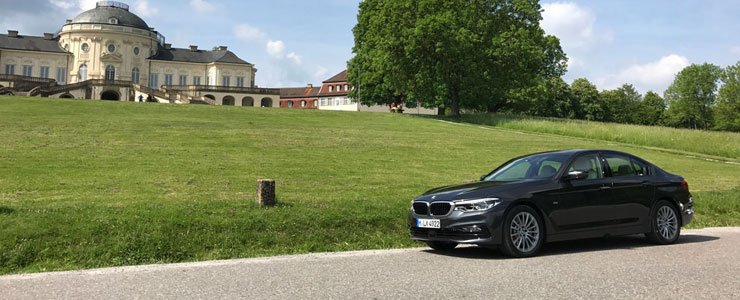 There aren't many cars that can ferry an enthusiast over 600km in comfort without compromising on driving dynamism, handling prowess and endless power.
The BMW 5 Series 530i xDrive, however, is one exception.
Travelling in the Bimmer from Munich to Stuttgart and then on to the
Nurburgring
brought out some keen qualities of the car that we would have otherwise overlooked during our time with its two-wheel drive brethren in Singapore.
More wheels bring more weight
There's no doubt you get a whole lot more traction with the 530i xDrive over the
rear-wheel driven 530i
, but you'll have to bear in mind it's also a slightly heavier car. In fact, weighing in at 1,595kg, it's 55kg heavier than the regular 530i and you do feel the car's heft as you pull off from the lights or from a standstill. As a result, poorer fuel economy is to be expected.
That said, the 530i xDrive makes up for this with an extremely positive driving experience that clearly sets it apart from other cars in its class like the
Audi A6
, the
Jaguar XF
and the
Mercedes-Benz E-Class
.
Are you saying this car is the best in its class?
Yes, that's what we're saying, and then some.
The car you see here sends 248bhp and 350Nm of twisting force to all four wheels in a predictable and evenly controlled manner via an eight-speed gearbox, allowing the car to go from 0-100km/h in six seconds flat - a couple of split seconds faster than its two-wheel driven sib.
While that's highly insignificant in real world driving, where a drag race to prove which car is faster is irrelevant, it's always good to know you're piloting a car that doesn't become tail happy should you decide to carve out of corners like a race car driver.
So it has better grip. What else should I know about?
It's every bit as stable at 80km/h around town as it is hitting 260km/h on the autobahn, as we've tried and tested while making our way to Stuttgart from Munich.
It's clear to see how sound and stable the 5 Series really is regardless of road conditions or speed, thanks largely in part to its well-sorted steering and its ability to cut through the air with ease.
The sense of stability could be due to the extra heft from the four-wheel drive system, but we do reckon the high refinement levels from the cabin plays a part, too, in making occupants feel safe and sound.
From high-quality materials used and its appealing design to the leather-swathed benches and airy feel of the cabin, there is undoubtedly a firm feel of added finesse and comfort that will never make you feel out of place.
More pertinently, the four-cylinder turbocharged powerplant residing underneath the car's bonnet emits a mild yet commanding growl under hard acceleration but otherwise proves completely unobtrusive. There is neither the presence of annoying vibrations nor excruciating harshness.
Going together like peas and carrots
It's only after six days did we come to realise that the 530i xDrive and tarmac go together like peas and carrots. This car is meant to be driven on the road. It's no candidate for the Nurburgring 24-hour race, but it'll most certainly hold its own for everyday driving.
After all, there aren't many cars that can travel over 600km in comfort without compromising on driving dynamism, handling prowess and endless power.