---
With its bold styling, spacious interior, massive boot and excellent road manners, the 6 Series GT will lap up miles in absolute comfort, style and ease.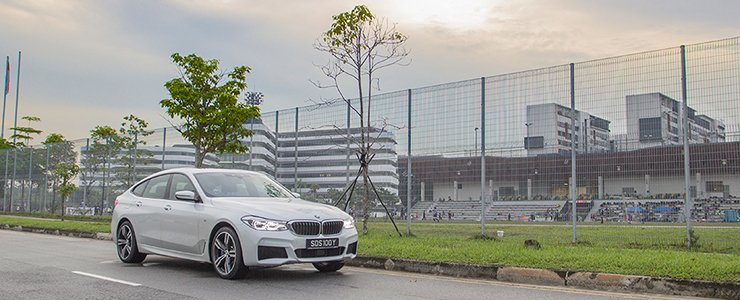 This past Friday marked the Singapore launch of the brand new
BMW 6 Series Gran Turismo
(GT). You may be wondering, "Wait, isn't the 6 Series the coupe/convertible version of the
7 Series
?" Well, yes, or rather it used to be. That model range will become the
8 Series
, and this here is the new 6 Series, which is effectively a hatchback variant of the
5 series
. This particular model is the successor of the
5 Series GT.
Yes, we are just as confused as you are.
Visual presence
This the 6GT certainly has. It's a bold and burly silhouette. It's certainly more congruous-looking than the car that came before, but you wouldn't call it pretty.
Measuring just over five metres in length and with a 3,070mm wheelbase (same as a 7 Series), the 6GT's stretched out proportions and lower roofline help it look sleeker and more coupe-like. It's certainly an improvement over the previous 5 Series GT, which came across as slightly abruptly stunted at the front and the rear.
It's a car that stands out visually, that's for sure. Driving it over the weekend, we couldn't help but feel people staring, perhaps thinking, "What the hell kind of BMW is that?"
Gracious space
A very spacious and very comfortable BMW, would be a fair answer. Step inside the 6GT, and the interior is headily familiar from this current generation of BMW models. It's comfortable, well-designed and well put-together. It's admittedly not the most exciting of interiors in the market, but it's entirely pleasant.
Where the cabin excels is in the ease of operation. All of the functions are easily accessible via a touch of a button. The iDrive system is logical and seamless to use, and everything works as you want it to.
What's impressive is the amount of space in the cabin, especially at the rear. The rear seats have cavernous amounts of leg room (thanks to the extended wheelbase), and that lounge-like quality can be further enhanced with the electrically reclining rear seats. The feeling of spaciousness is accentuated by the panorama glass roof.
The boot is also suitably enormous. In fact, clocking in at 610 litres, the 6GT has the largest boot capacity in the BMW lineup. Fold down the rear seats and maximum load space expands to an enormous 1,800 litres. Boot access is also very easy, with the rear hatch door opening upwards to reveal a wide cavity. Our only concern is the need to be more careful in carparks with low ceilings because the boot lid opens up quite high.
Effortless quality
The driving quality of this car can be described in one word - effortless. The 3.0-litre turbocharged in-line six engine develops 335bhp and 450Nm of torque, and delivers ample power in a buttery smooth manner. It's the same engine that can be found in the 540i and 740i, and it's an engine we have all become quite enamoured with. It accelerates smoothly, responds well to throttle inputs and is quiet on the trot.
Driven sensibly, the 6GT is quiet, serene and comfortable. Ride comfort is excellent, thanks to the self-levelling air suspension at the rear axle that comes standard. Bumps in the road are absorbed with ease, so much so that we don't think it necessary to upgrade to the optional Adaptive suspension.
The car may look big and slightly bulky, but it certainly doesn't feel that way on the road. In fact, despite the longer wheelbase, it drives remarkably similar to a 5 Series - it feels quite light on its feet, and is surprisingly nimble around corners, helped by the xDrive all-wheel drive system. It definitely drives like a BMW - fast, responsive and tractable.
It's a car that you can quite confidently chuck into corners. But people who buy this car probably won't chuck it into corners, and that's perfectly fine. After all, this is meant to be a long-distance cruiser, and it excels in that role.
The 640i also comes standard with Driving Assistant Plus, which allows level two autonomous driving. This means that the car is able to drive autonomously without your hands on the wheel. While some may scoff at this (Bimers are supposed to be 'driver's cars' after all), the reality is that you will be mightily thankful for it when you are stuck in a jam or heavy traffic. You can very easily and quickly switch on the steering assist and adaptive cruise control, and just let the car handle the crawling traffic for you. No need to constantly alternate between the brake and accelerator pedals.
A true standout
The 6 Series GT certainly stands out. It's a bold and unconventional choice, and will probably only appeal to a fairly niche group of buyers.
That being said, it really is a standout car - it's excellent in just about every way, has some unique qualities, and has preciously few faults. It's an effortlessly easy car to drive and to live with.
Any complains we have about this car are not about this model specifically, but rather general gripes with the whole generation of Bimmers - overly cautious parking sensors that go crazy in tight carparks, a somewhat unexciting cabin, and the cool but not particularly useful gesture control function.
So, it may only appeal to a niche audience, and it may slot in slightly awkwardly in the BMW lineup between the 5 Series and the 7 Series, but judged in its own right, the 6 Series GT is an outstanding car.
This model is no longer being sold by local distributors
Engine Type
:
6-cylinder in-line 24-valve Turbocharged
Horsepower
:
250kW (335 bhp)
Torque
:
450 Nm / 5200 rpm
Transmission
:
8-speed (A) Steptronic
Acceleration (0-100 km/h)
:
5.3sec
Fuel consumption
:
11.8km/L