The BMW X3 xDrive20d retains the same loveable qualities of its petrol sibling but has more torque, a punchier engine and better fuel economy.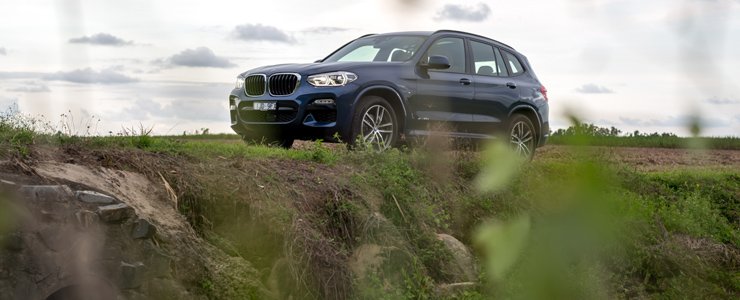 It's no secret that we were rather impressed with the new BMW X3 when we drove it in Cairns, Australia, recently. We've already reviewed the
BMW X3 xDrive30i xLine
, which does an amazing job at transitioning from city slicker to recreational off-roader without much fuss.
This, however, is its diesel sibling - the BMW X3 xDrive20d M Sport. So how does it fair against its petrol brethren? Pretty damn well, we reckon.
It's a shame, though, seeing as the only variants that will be arriving in Singapore are the xDrive30i and M40i. But even though the xDrive20d isn't coming here, it's definitely worth a mention here.
Same, same but different
On the outside, the 20d looks similar to the 30i, with its chunky kidney grille, hexagonal fog lights, twin exhaust pipes and downward-sloping roof spoiler.
But step inside and you'll be greeted with sports seats in M-specific look, an M Sport leather steering wheel, and other accents strewn about the cabin.
More importantly, what lies beneath the bonnet is a complete departure from the petrol variant. A 2.0-litre four-cylinder diesel powerplant, which puts out 190 German horses and 400Nm of twisting force, takes the 20d from 0-100km/h in eight seconds and on to a top speed of 213km/h.
This may not seem like much on paper but the extra 50Nm of torque it has over its petrol sibling makes a pretty significant difference when it comes to real-world driving.
Available from just 1,750rpm to 2,500rpm, the increased torque allows the 20d to put out more power towards the lower end of the rev range. It also feels punchier than the 30i at low speed and will provide more practical use for that power if the Sport Utility Vehicle (SUV) spends most of its time in the city, which it probably will.
Taking it around the city and onto some gravel, we managed to get a respectable average fuel consumption figure of 13.3km/L.
Say it ain't so
We could drone on and on about the intricacies of the 20d but the fact of the matter is, besides having a punchier and more fuel efficient diesel engine, it's pretty much the same as the equally impressive 30i that we drove.
It's got the same muscular looks, confidence-inspiring off-road capabilities, practicality, and made-for-the-city qualities that we look for in an urban SUV, and then some.
Unfortunately, we won't be getting any of the X3's diesel variants. However, as a consolation, you can look forward to the M40i arriving early next year, which looks promising.