---
The updated third generation Kia Sorento is now even better with an improved transmission and styling elements.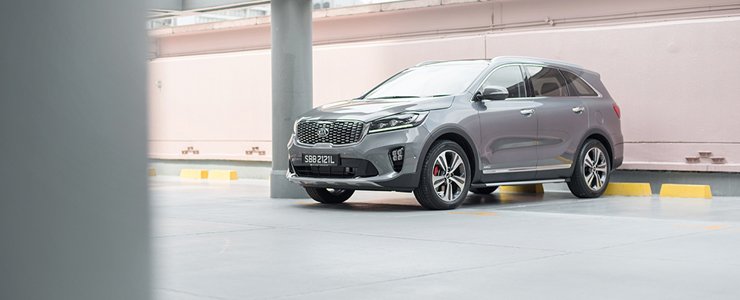 While everyone's been buzzing on about the new
Kia Stinger
, there's something else that's also recently come out of the Korean manufacturer's oven and it's the updated third generation
Kia Sorento
.
If you're unfamiliar with the Sorento namesake, it's a seven-seater for family buyers looking for something a little more rugged than your typical people carrier.
In 2015, when the third generation model was launch, it was nominated for but narrowly missed out on winning sgCarMart's Large SUV of the Year to its Japanese rival the
Mitsubishi Outlander
.
To right that wrong, Kia's given the Sorento a nip-and-tuck for 2018 but you'd have to look closely to figure out what's been improved. It's now available with a top-of-the-range GT Line, which is the variant you see here that's got all-wheel drive, 19-inch rims and red brake calipers as standard.
It looks… well, almost similar to the pre-facelift model
On the outside, the Sorento wears revised front and rear bumpers, new LED head and tail lamps and a new dark metallic finish to the Kia's signature 'tiger-nose' grille.
Unless you're a Kia nerd, the best way to differentiate the facelifted model, is to look for the four-lamp LED foglights in the side airdam.
On the flipside, the revisions to the car's cabin are slightly less subtle. Quality and comfort have been upped by way of an increased portion of soft-touch materials and leather, while the car now sports a newly-designed steering wheel and driver instrument cluster display.
Both Sorento trims, the SX and GT Line, come with 7.0-inch touchscreen infotainment systems with Apple CarPlay connectivity as standard and huge glass sunroofs that help keep things airy and spacious-looking.
It's also armed with a number of premium features, including ventilated seats, panoramic sunroof and self-parking.
Like before, the Sorento remains a relatively roomy seven-seater that's comfy to be in and packs a befitting 1,530 litres of cargo space with the second and third-row seats folded.
The car's thoughtful nannies, too, have been carried over. For example when you stand near the boot for about three seconds, the tailgate automatically opens - useful for when you've got your hands full.
The Sorento's biggest update, however, is more than just skin deep
Paired to the same 2.2-litre turbodiesel of old is a new eight-speed automatic that replaces the six-speeder. It's a smooth-shifting unit made in-house by Kia that's decisive with its gears and offers Eco, Comfort, Sport and Smart drive modes.
And it's undoubtedly the better half of the car's powertrain. Seeing how diesel engines have come a long way and are now mostly much quieter and refined than before, it's slightly disappointing that the Kia's is still noticeably chatty at idle.
That, however, is but a small downside to the upsides of low-end torque the powertrain pairing offers. With 197bhp and 441Nm, the Sorento responds well to throttle inputs and feels fairly light-footed for something its size.
But don't mistake that for a car you'd want to drive quickly in. While it's able to zip around comfortably in traffic, it's still a chunky seven-seater. The car's softly-sprung suspension and detached steering aren't the best tools for attacking corners with and are best enjoyed on relaxing cruises with the family.
It's also the second most expensive car sold by Kia here at $166,999, just under the new Stinger, which starts from
$168,999 (both as of 11th January 2018)
.
But considering how much thought Kia has put into improving the car's recipe, you're getting a decent amount of kit for a reasonable price.
With the 2018 update, the Sorento continues to prove that it's a capable car and a sensible choice, especially for buyers who aren't fussy about its Korean badge.
This model is no longer being sold by local distributors
Horsepower
:
147kW (197 bhp) / 3800 rpm
Torque
:
441 Nm / 1750 rpm
Transmission
:
8-speed (A)
Acceleration (0-100 km/h)
:
9.3sec
Fuel consumption
:
15.3 km/L