The Maxus D90 is an extra large full-size SUV that will fit seven occupants in comfort.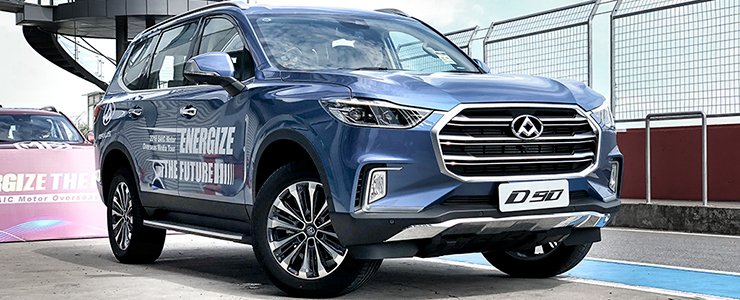 After test driving the
Maxus G10
multi-purpose vehicle, it seems the China carmaker believes that being big is the answer for consumers. Can't fault them, really, considering most cars in China are the long wheelbase variants. Perhaps it has to do with pride - a typical characteristic that's often associated with the Chinese.
Thus, when it comes to Maxus vehicles, the saying good things come in small packages may not always be true.
The Maxus D90 Sport Utility Vehicle (SUV) is one good example.
It's another big winner
Measuring over 5m from tip to tip and with a width of over 1.9m, this full-sized SUV is bigger than most, if not all, in its class.
Thus, finding a suitable competitor to the D90 is like finding a needle in a haystack. The closest car that comes to mind is the already huge and spacious
Toyota Fortuner
.
Even on that front, the gigantic D90 remains a winner. Its wheelbase of 2,950mm supersedes the Fortuner's 2,745mm. This translates to a cabin that's ridiculously roomy for all three rows of passengers.
In fact, it's so spacious that second row occupants can sit cross-legged with room to spare.
But there is one quibble that does not make the D90 as appealing as the Fortuner.
Second-row seats can be folded but not flipped up. In the Fortuner, for instance, its second-row seats can be folded and flipped up completely to make ingress and egress easy for third-row occupants.
It's forgivable with its level of equipment
But what it lacks in seating versatility, the China-made SUV makes up for with useful features that are on par with even the German makes.
The first thing you'll notice in its cabin is the 12.3-inch high-definition touchscreen media display that takes centre stage. Another nice touch is the digital instrument cluster that can only be found on premium makes.
The Maxus D90 also comes with an electric park brake with auto hold function, auto start/stop, ventilated seats, blind spot detection, land departure warning and even six different driving modes as standard.
There is even a panoramic sunroof and a three-pin power socket, for crying out loud.


Is the cabin as good as it drives?
Once on board with the help of the side step, you are immediately aware of how high up you are because your view is completely unblocked by the rest of the sedans in front of you at the pitlane.
Piloting the SUV around the 2km-long Tianma circuit in Shanghai, it will not take long for you to grow a liking for it.
Thanks to its 221bhp and 360Nm of torque from its 2.0-litre turbocharged powerplant, the D90 feels quick on the straights. It also manages to hold itself well around sweeping bends and tight corners.
However, given its massive size, noticeable diving under hard braking and body roll are simply inevitable.
That said, buyers of this car will not be particular about its handling and dynamism. Instead, it is its ability to ferry family members in comfort. For that, the D90 will not fail.
When will it arrive then?
Where it does fail, unfortunately, is the fact that the car is currently not a Euro 6-compliant vehicle. As a result, Maxus' authorised agent Cycle & Carriage is unable to bring the D90 in just yet.
Discussions on how and when to bring in the vehicle are still in the works and it remains to be seen when the Maxus D90 will come into our market.