The new Subaru Forester e-Boxer is a hybrid SUV that has left forced-induction behind, but it is a cleaner and greener option for buyers.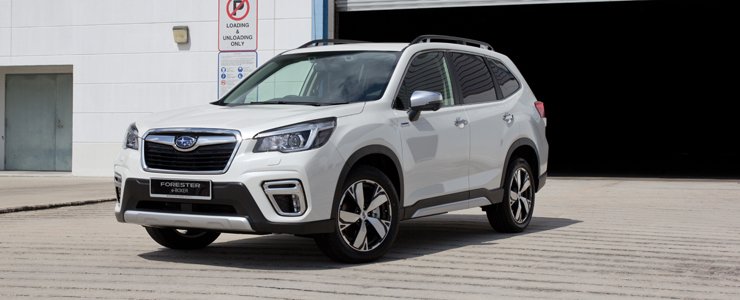 It has been said before. The Forester defined the word 'Sport' in Sport Utility Vehicles when it was first launched in 1997.
In XT (or GT in certain markets) trim, it came with a turbocharged four-cylinder boxer engine with all-wheel drive, in very similar fashion as the livid WRX and the
WRX STI
.
With this latest generation Forester, it seems like Subaru has put forced-induction boxin' in the can, now with the inclusion of a hybrid powertrain option. The big brute from Fuji Heavy Industries is now, well, green.
Hybrid boxin'
The Forester e-Boxer is Subaru's take on making a hybrid. There's an electric motor that sits in line with the drivetrain, along with a low-mounted battery at the rear that allows it some added dynamism behind the wheel.
When it comes to operation, the said electric motor will assist the 2.0-litre horizontally opposed petrol engine at low and medium speeds, but turns off completely at high engine loads - call it a mild-hybrid, if you wish.
With this combination, you probably expect a nice power bump. But at 156bhp and 188Nm of torque, it makes 3bhp more, but 7Nm less than its petrol-powered sibling.
Wait, how can this be?!
Yes, the figures will raise some eyebrows, but not one where you should bash on, more so for those who find a non-turbocharged Subaru an absolute blasphemy.
In this case, what is rather unique with the e-Boxer hybrid configuration is how natural it is to drive, much like a naturally aspirated car.
So how is it like to drive?
Thus, while it isn't going to win any drag races, the hybrid motivation allows power to be delivered in a creamy smooth fashion, thanks to Subaru's Lineartronic CVT, which we reckon is one of the most rhythmic in the business.
While the lack of power might be a downer for some, the e-Boxer possesses promising corner-carving capabilities you seldom expect from an SUV - credits go to the
Subaru Global Platform
that underpins it.
How different is it from the petrol-powered 'Fozzie then?
Looks wise, there is nothing much telling the e-Boxer apart from the regular variant, which isn't a bad thing. From the outside, all you have is the e-Boxer moniker on the doors and the tailgate. No funky grilles or low-drag coefficient-looking wheels here.
It is the same on the inside. The purposeful and practical interior is a step up from before, with soft-touch materials and properly fitted furnishings.
Plus, the suite of safety features are all still available, courtesy of Subaru's
EyeSight
tech that relies on strategically placed cameras that allow for radar cruise control and pre-collision braking systems.
The only small difference is the boot space, which is 509 litres - just 11 litres down from the non-hybrid variant.
So, a hybrid Subaru is the one to get?
The Subaru Forester e-Boxer might be an odd-choice for some, but it still retains the proven Forester recipe of a practical SUV, with ample space and respectable handling.
There are no confirmed dates as to when the Forester e-Boxer will arrive on our shores, but you can get a preview of it at the
Singapore Motor Show
, where it is currently displayed until 13 January.