Improvements to its performance, design and cabin help the Porsche Macan S maintain its position as the leader of the pack and a clear driver's choice.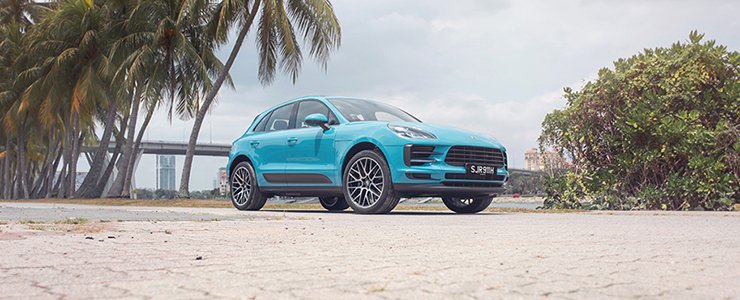 If there's anything more competitive and faster evolving than
Formula One
, it's likely to be today's go-fast, luxury crossover market.
Just at the top of my head, there are already the
Alfa Romeo Stelvio Quadrifoglio
, the
Audi SQ5
, the
BMW X3 M40i
, the
Jaguar F-PACE V6
 and the
Mercedes-Benz GLC 43 AMG
 - and they each stand out in their own way.
Some are beautiful, some are great to drive and some are luxurious. But there is one model that combines all those qualities, amplifies them, and has become the best-selling model of its brand. In 2018, it was the most successful Porsche model by volume with 86,031 vehicles, just ahead of the 
Cayenne
 with 71,458 deliveries.
That is the
Porsche Macan
.
Okay, maybe it wasn't all that beautiful before, but the Macan has since received a rather extensive facelift for the 2019 model year that will no doubt help it continue that success.
It all begins on the outside
The old Macan isn't something we would call a work of art, and it's still something we probably wouldn't, but it's better. Its visual changes are largely evolutionary but bearing its popularity in mind, it's understandable why Porsche didn't change its styling much.
The most obvious difference with our test car, a
Macan S
, is the new full-width tail lamps that bring its design closer to the rest of the current Porsche lineup, while a slightly restyled front fascia comprising redesigned LED head lights and intake apertures round things off at the front.
There are also new colour - such as Miami Blue, Mamba Green Metallic, Dolomite Silver Metallic and Crayon - and wheel design options to choose from.
On the inside, the noticeable changes are front and centre, with a new 10.9-inch infotainment touchscreen replacing its predecessor's 7.2-inch screen, and redesigned air-con vents that are now positioned below the infotainment screen.
Our Macan S also came equipped with an optional alcantara-wrapped steering wheel lifted from the 911, fitted with the sport response dial that is part of the Sport Chrono Package - a first for the Macan range.
There's heightened performance, too
Flip that dial into Sport Plus mode and the engine becomes more responsive, the shift times of the PDK transmission, fitted as standard, become even shorter and gear changes even sportier.
The Macan S is also quicker than before, thanks to its new turbocharged 3.0-litre V6, which it shares with the
Panamera
and Cayenne. With it, there's now 349bhp and 480Nm of torque on tap - an increase of 14bhp and 20Nm from before.
Correlatively, the model's 0-100km/h time has been reduced by 0.1 seconds to 5.1 seconds. The engine is sharp and responsive, and strong enough that it makes you wonder if the
GTS
and
Turbo
models are really necessary down the road.
But what really impresses is how it handles. Its steering is remarkably precise for a crossover, plus it actually provides some real feel, and the agility of its front end is unrivalled. The seating position is also unusually sporty for this sort of car.
In its stiffer modes, the Macan S' adaptive dampers do well to help eliminate a big amount of body roll, which is often a crossover's foible.
And so, it can pretty much be driven the same manner you would a hot hatch, delivering an experience that shames even some sports cars in the market.
Yet, despite the fact that the Macan S tilts towards performance, it has a surprisingly soft side. With the adaptive suspension in comfort setting, there are no sacrifices to ride quality and refinement, which is a characteristic that's required of any luxury crossover.
The Macan S manages comfort and athleticism in equal measure, which is something we can rarely ever say about any car.
Continued success
So while I've never actually been a fan of sporty crossovers, because I've never felt the combination ever worked well, it's easy to understand the appeal of the Macan. It doesn't just work well as a Porsche, but also as a comfortable, well-appointed and practical family proposition.
And I do not doubt that it is still the best in the business, and will continue to lead Porsche's sales charts.


Engine Type
:
V6 Turbocharged
Horsepower
:
264kW (354 bhp) / 6400 rpm
Torque
:
480 Nm / 4800 rpm
Transmission
:
7-speed (A) PDK
Acceleration (0-100 km/h)
:
5.3sec
Fuel consumption
:
10.4 km/L