Powered by a new 1.3-litre engine, the facelifted Renault Kadjar proves to be a much more complete and compelling package than before.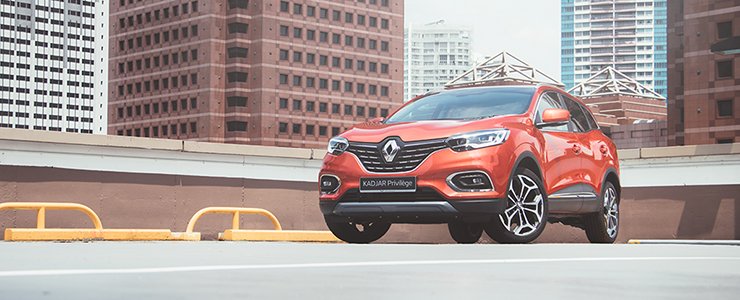 Back when it was launched in 2016, the
Renault Kadjar
seeked to inject some stylish zeal into a crossover segment dominated by practical if largely characterless cars. But, while the overall package was stylish, practical and well-equipped, the car was 'saddled by an uninspired drivetrain' (my own exact words).
And yet, the Kadjar was still Renault's best-selling model (accounting for over 42% of its sales in 2016), which goes to show that most Singaporean drivers have higher priorities than how a car drives.
However, due to the impending impact of new
Vehicle Emissions Scheme
 (VES) regulations, sale of the Kadjar stopped in September 2017. Both the 1.5-litre diesel and the
1.2-litre petrol
 variants (offered for a short while) would fall into the C2 banding and incur significant surcharges, which made the distributor withdraw the model from its product lineup.
Now, after about a year and a half of being out of the market, the Renault Kadjar is back with a mid-cycle facelift, bringing with it a raft of notable changes.
A new heart


The big change is under the bonnet - the Kadjar now rocks a 1,332cc powerplant that has been jointly developed with Daimler (similar to the engine found in the new
Mercedes-Benz A-Class
). The new powertrain has had a significant impact on the way the car drives. Acceleration is brisk and smooth, thanks to a generous 157bhp and 270Nm of torque.
The engine is mated to a wet-clutch seven-speed dual-clutch gearbox. Gearshifts are dispatched smoothly and relatively quickly, and overall there is a greater refinement to the drive than before.
It's still not massively powerful, but this new powertrain improves the Kadjar's 0-100km/h timing by 2.4 secs compared to the diesel, and the top speed is raised 29km/h to 210km/h.
Importantly, with the new drivetrain, the Kadjar falls into the 'Neutral' VES banding.
On the go, the Kadjar is expectedly soft riding and comfortable to drive. However, the car does feel more sure-footed over bumpy roads, with less of the hint of 'looseness' that the previous model exhibited. This is probably due to this car being 59kg lighter than its diesel predecessor.
A sweeter package


Other changes for the facelifted Kadjar include a redesigned front grille, full LED head lights and fog lamps, Matte Mettalic Grey front and rear skid plates as well as 19-inch rims on this Privilege variant.
One thing that hasn't changed is the high level of equipment (though some specific equipment has changed). Inside, there's a new 7.0-inch touchscreen and redesigned centre console with new switches and controls. In this Privilege trim, you also get an electric driver seat, a panoramic moon roof, and a six-speaker Arkamys sound system.
A bigger smile


All in all, the facelifted Kadjar is certainly a more compelling package than before. Previously, whenever someone asked my opinion of the Kadjar, there was always an inevitable 'but' tagged on to whatever I said, mainly because I struggled to look past the drivetrain.
Now, with the new 1.3-litre powerplant, the Kadjar is a much more complete package. Within a highly competitive segment, it stands out for its sharp styling and high equipment levels, while the solid drivetrain and comfortable ride mean that it's much harder to strike it down than before.
The facelifted Kadjar is expected to be launched at the end of the year in two trim levels, but Renault distributor Wearnes Automotive is already taking orders for the car. With a present indicative pricing of $139,999 (as of 14 May 2019), it's not hard to imagine that many customers will be drawn to this offering.
So, take it from someone who has had some less-than-pleasant things to say about the pre-facelift model (and drawn ire from Renault representatives for it), the facelifted model is significantly improved and makes for a rather compelling crossover package. And if you don't believe me, feel free to head down to the showroom to test out the car for yourself. 

Engine Type
:
4-cylinder Turbocharged
Horsepower
:
117kW (157 bhp) / 5500 rpm
Torque
:
270 Nm / 1800 rpm
Transmission
:
7-speed (A) EDC
Acceleration (0-100 km/h)
:
9.3sec
Fuel consumption
:
16.9 km/L