---
The third generation Bentley Continental GT V8 has a stunning sheet metal to match its sound powerplant.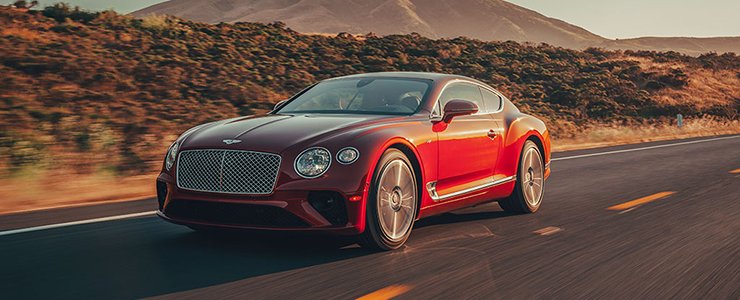 The Bentley Continental GT's third iteration now has a V8 powerplant option, which means buyers looking for a more affordable Bentley grand tourer will soon be able to get their hands on one, and it'll be one helluva choice.
When it comes to Singapore in the second half of next year, the car should set potential buyers back at over $800,000, which is competitively priced compared to the
Aston Martin DB11 4.0 V8
.
Respectfully, both Brits are pretty special in their own ways. The Aston comes across as a sportier breed, even if it's still considered a grand tourer. It's the kind that's always up to mischief, even as an adult. The Bentley, on the other hand, exudes a more sophisticated perception, with the sort of maturity that puts family before fun.
Fun run
But that's not to say that the third generation Bentley Continental GT isn't any fun to drive. With its 4.0-litre twin-turbocharged V8 powerplant pushing out 542 horses and 770Nm of twisting force to all four wheels, the car isn't just fun, it's mighty fast too.
Century sprint is completed in four seconds flat - a split of a second faster than the
convertible variant
that we also tested. That said, the coupe is still very much similar to the convertible in terms of performance, with similar figures to match.
Where they differ, obviously, is the coupe's tautness and better sound insulation that are missing from the convertible. While these may seem like natural differences - considering the engineering disparities between a hard top and a soft top - they add up to make for a very different driving experience between the two cars.
Confidence-inspiring
The coupe feels a tad sharper and a wee bit more communicative on the move. Thanks to its grippy four-wheel drive, communicative steering and firm but comfortable setup, the car doesn't just go like the wind on the straights but also manages to carve corners with absolute precision.
Despite its capabilities, the Continental GT's charm stems from the fact that it doesn't shove you with the sort of savagery that's often associated with a V8. Instead, it delivers the drama only when you ask for it.
Thus, there's a lot of confidence when you're behind the wheel, as what I experienced as I was driving on the wrong side of the road, with the vast blue Pacific Ocean to my right and a sea of green grass on my left.
Poetry in motion
In terms of design, you could say the Bentley that you see here is nothing short of stunning, thanks to its bold contours and bulbous waistlines. More than that, it has an unpretentious disposition to it that matches not just the way it pilots but also its gorgeous and well-built cabin.
And always with an eye towards function, the coupe comes with a usable boot space of 385 litres, which will certainly fit your weekly groceries or even a couple of luggage for your cross country expedition.
So to coupe or to convertible?
Of course, luggage capacity in the convertible is 150 litres lesser, which is significant, but you get to enjoy the sun-in-your-face and wind-in-your-hair experience. With the coupe, there's more driving fun to be had and somehow more practicality with its bigger boot space.
Whatever the case, I don't think it's so much of choosing between the two because whichever model you decide on, it's going to be one helluva choice.