---
With high levels of equipment, good road manners and impressive overall refinement, the new BMW 1 Series is an undoubtedly high-quality hatchback.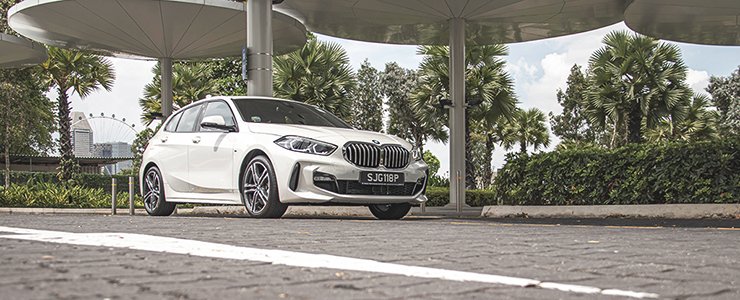 According to the BMW Group's 2018 sales report, the BMW 1 Series 5-door was the brand's biggest selling model in 2018.
This isn't at all surprising. Since the first generation model was launched in 2004, the
BMW 1 Series
has served as the entry point into the BMW brand. Its appeal is derived from the model's ability to deliver BMW quality, dynamism and technology at a wallet-friendly price point.
Now, this new third generation model looks to build on the success of this highly popular model. 
Outside in


Let's not beat around the bush. The new 1 Series isn't a particularly pretty car. It's got a wedge-like shape that's overcomplicated by multiple lines and creases. And, something about its dimensions and stance make it look less like a hatchback and more like a shrunken crossover.
But it settles over time and, after awhile, you just kind of get used to how it looks.
The cabin is where the 1 Series has taken a notable step forward. In the previous generation mode, you could clearly tell that it was the 'entry level' BMW.
In this new one, it feels every much as premium and 
atas 
as a 3 Series. You get the latest Operating System 7.0 infotainment system, a full 10.25-inch digital dashboard, the same central cluster of buttons and controls as even the
8 Series
, as well as a wealth of technological functions found in its bigger brothers.    
It's also more spacious than before, with 33mm more legroom and 13mm more headroom. Boot space has gone up by 20 litres to 380 litres, but more importantly, a 86mm wider loading berth means it's easier to get things in and out of the boot.
This M Sport variant also features Cloth 'Trigon'/Sensatec Black upholstery. It looks fancy enough on the seats, but the trimming on either door looks and feels a tad tacky. But this will likely come down to individual tastes. We suspect less adventurous buyers will opt for the simpler leather seats. 
Front and centre


How does it feel on the road? The big change, of course, is that it's now front-wheel drive rather than rear-wheel drive. Can you tell the difference? Probably not. It's not so powerful that you're going to be doing big burnouts or drifts, so the whole rear-wheel drive hubbub matters less.
What matters is the overall comfort and ease of use, and here the 1 Series shines. This M Sport variant gets the lowered suspension, but that hasn't compromised ride quality too drastically. Ride comfort is good, and the car's small footprint makes it easy to pilot and place on the road. 
Expectedly of a BMW, it also handles admirably well when you want to engage in some spirited driving. Turn in is sharp, steering is accurate, and all in all it's still a fun-to-drive car. 
Powering this 118i is a turbocharged 1.5-litre three-cylinder engine producing 138bhp and 220Nm of torque. It's a powerful enough engine that makes daily driving comfortable and easy, though it doesn't sound particularly good - there's a perceptible drone below 2,000rpm.
The 1 Series also comes standard with Comfort Access, a nifty convenience feature that unlocks the car when you come close to it, and locks it when you walk away from the car. So, there's no need to press the key fob, or even to place your hand on the door handle to lock or unlock the car.
Complete step up


It's not a cheap car, this new 1 Series. This M Sport model costs a hair over $150,000, and that's quite a lot of money to pay for a small hatchback.
That said, you're getting a lot of car for your money. The big leap forward for the 1 Series is that it no longer feels like a 'budget' BMW. It feels every bit the premium and high-quality car that you expect from the brand.
So, while the new BMW 1 Series may not be a very pretty car, it sure as hell is a pretty damn good one.
For a better look at the new boot, or a better judge of the car's awkward looks, why not watch our video review as well?

Engine Type
:
3-cylinder in-line TwinPower Turbocharged
Horsepower
:
103kW (138 bhp) / 6500 rpm
Torque
:
220 Nm / 4200 rpm
Transmission
:
7-speed (A) Steptronic DCT
Acceleration (0-100 km/h)
:
8.5sec
Fuel consumption
:
16.9 km/L