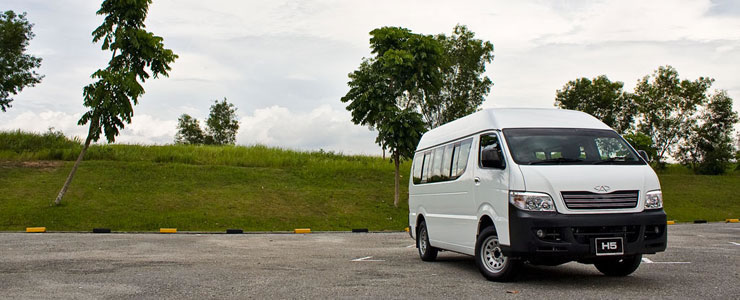 With just 10 years experience in making and selling cars, Chery is the one of the youngest vehicle manufacturers in China. And the company is on track to produce 1 million cars this year - well ahead of forecast.
Chery has about 20 models in its range, including hatchbacks, sedans and vans. Although it's the latter segment that has not seen great sales since 2009, it is expected to improve by the end of this year.
With the H5 driving up to our shores, the luxury van is expected to increase the sales of the Chinese brand with its aggressive exterior and high comfort levels. Despite facing tough competition such as the Toyota Hiace and Hyundai Starex, Chery seems confident that they can successfully breakthrough the market.
Question is - can it last?
Exterior
Launched in August this year, the H5 could almost pass off as a new generation of Toyota Hiace. Not that it's a copycat car, rather it's a compliment about how far Chery has come in terms of its design in a relatively short period of time in the automotive world.
In fact, the fascia of the van looks far more sleek and aggressive as compared to its Nihonjin competitor. With its carefully crafted surfaces, including a generous creation of wide windows all round, attention is drawn to the 14-seater Chinese.
Round the back, things get far simpler but no less neater. A chromed piece with Chery's logo blends as a bulge on its hidden rear door handle with the usual red-cased rear lamps by the sides. No complains here, considering the fact that the van's styling, while not stunning, is substantial and pleasant.
This model is no longer being sold by local distributors
Engine Type
:
4-cylinders in-line 16-valves DOHC Turbocharged
Horsepower
:
127kW (170 bhp) / 5500 rpm
Torque
:
235 Nm / 1900 rpm
Transmission
:
5-speed (M)
Acceleration (0-100 km/h)
:
-
Fuel consumption
:
9.5 km/L