Its four-wheel vehicle is known as "X-Bow", which is pronounced "Cross-Bow".
Article Courtesy of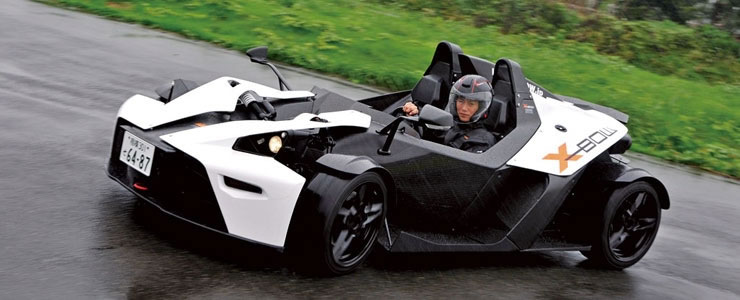 Austrian motorcycle manufacturer KTM has an excellent track record in the global circuit, and has about 30 dealers in Japan. Its four-wheel vehicle is known as the "X-Bow", (pronounced "Cross-Bow"). Koji Aoyama visited the Atsugi branch of car importer Zoom, and test-drove the X-Bow.

What impression does Koji have of this Spartan machine?

The X-Bow appeared light and weighed only 790kg. It impressed Koji with its 3738mm x 1920mm x 1205mm body, which had a carbon shell and an attached cowl. KTM's unique concept incorporates a motorcycle's performance into the body of a four-wheeler. Thus it was thrilling to drive.

Koji scrutinised the X-Bow's body, which surprisingly had no doors. When the lever beneath the dry carbon fibre driver's seat was pulled, the accelerator pedal shifted instead of the seat. This was definitely not an automaker's concept. Compared to Lotus' Evora, the X-Bow's pedal layout was wider, making it easily controllable even without changing into racing shoes.
The X-Bow's engine contributed to its fetching design. It was installed behind the driver's seat. Lifting its glass fibre cowl reveals the Audi logo stamped on the engine - the automaker clearly collaborated with KTM to develop the X-Bow, and it shows.
Like Volkswagen's Golf V GTI, the X-Bow is equipped with Audi's inline-4 DOHC TT Turbo engine, which generates
200bhp/280Nm. This kind of power is particularly impressive in a car weighing less than 790kg. Clearly, we can expect many exciting things from the X-Bow.