---
The Citroen DS3 and MINI Cooper S are chic, stylish designer hatchbacks with a lot more in common than you think.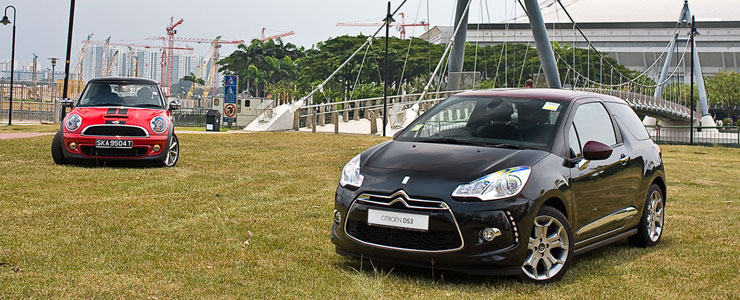 Cost reduction and efficiency are now buzzwords in this modern 21
st
century world we live in. In the automotive industry, companies have resorted to alliances with one another in order to maximise productivity with minimal outlays.
One such partnership is between the BMW Group, and the PSA Peugeot Citroen Group. The Franco-German alliance came together in 2002 to develop and produce a new engine together, called Prince, and the unit is now seen in a variety of small cars from both manufacturers.
The Prince engine is available in two forms, namely a 1.4-litre with about 98bhp that underpins cars like the MINI One, Peugeot 207 and Citroen C3, and a 1.6-litre, which is available in a few guises.
There is a naturally-aspirated version of the engine with about 120bhp that features in the MINI Cooper, Citroen DS3 and Citroen C4, while a turbocharged version of the same engine is offered in two tunes, with the 156bhp version fitted in the most powerful DS3 we have here, and the 184bhp unit powering the MINI Cooper S.
So, we have two chic, stylish hatchbacks with essentially the same heart, aimed at the fashion-conscious crowd. The similarities seem uncanny on paper, but are they really twins, or distant cousins?
Exterior
Choosing which one you think looks better between these two is like choosing which shirt you prefer to wear on a night out. It's basically down to personal preference.
While some may say that the MINI has suffered due to its ubiquitous presence on the roads, there's no denying that it is still a classic design that will undoubtedly attract its usual flock of young, trendy folks who are more into Prada than prata.
However, when put beside the Cooper S, the DS3 feels fresh and contemporary, with its soft curves surely appealing to buyers of the female set. Some might even go for one simply because it isn't a MINI.
The interesting thing about these two cars is that they are highly customisable, with both the DS3 and Cooper S featuring a roof that can be had in various designs and colours. The Citroen also offers unique colour options for the wing mirrors, wheels and even the hub cap and key fob.
This model is no longer being sold by local distributors
Engine Type
:
4-cylinders in-line 16-valves
Horsepower
:
116kW (156 bhp)
Transmission
:
6-speed (M)
Acceleration (0-100 km/h)
:
7.3sec
Fuel consumption
:
14.9km/L
This model is no longer being sold by local distributors
Engine Type
:
4-cylinders in-line 16-valves Turbocharger
Horsepower
:
137kW (184 bhp)
Transmission
:
6-speed (A)
Acceleration (0-100 km/h)
:
7.2sec
Fuel consumption
:
14.9km/L