---
The new Sharan injects a bit of fun and excitement in the usually-tepid MPV market in Singapore.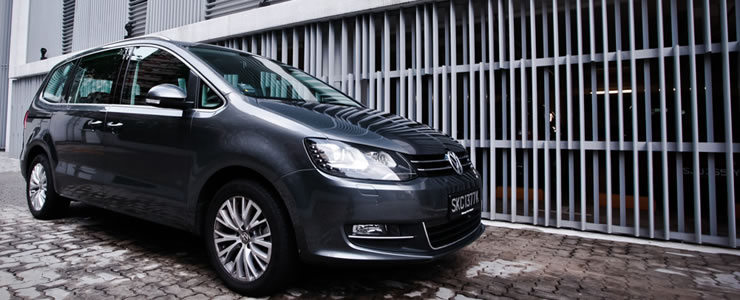 The MPV market in Singapore has been rather quiet this year, with the people carrier brigade having only a handful of facelifted models introduced in the early half of this year to show for 2011.
(That said, this is the sixth MPV I've reviewed this year. Maybe I seem to have an attraction for these mini vans somehow)
The segment received a sudden injection of life in September though, with the introduction of not one, but two MPVs, almost concurrently, to delight the family men once again.
The Chevrolet Orlando has been covered in a separate article, but probably the one that will garner the most interest will be the Volkswagen Sharan. Most notably because of Volkswagen's strong presence this year with their numerous car launches, but also because the Sharan fills a gap that it has not had a presence in for a long time, namely the full-size MPV sector.
The Sharan is designed to compete with the aforementioned Orlando, fellow Continental rivals like the Ford S-Max and Galaxy, as well as traditional Japanese favourites like the Toyota Previa and Honda Odyssey. But will typically conservative family men be the latest converts to the Wolfsburg revolution?
Exterior
The Sharan bears the usual Volkswagen family look that is now all too familiar on our roads. With its chiselled Teutonic style, consisting of the horizontal slatted front grille, smooth lines and chunky, Touran-style taillights, the Sharan comes across as quite a handsome little beast.
Although, actually, it isn't little at all. Standing at over 4.8m long and 1.9m wide, the Sharan is a big car. But somehow, perhaps because of its design, it doesn't look ridiculously massive. Until you slot it in a parking lot and realise how it barely fits, that is.
The sloping front nose contributes a little to that deception, but that means that the front is all but invisible to the driver, which can be a bit tricky when it comes to manoeuvring this vehicle. Similarly, the wing mirrors are a tad too small for a car of the Sharan's size.
But those are really very minor niggles that can be easily overlooked, especially when you get a lovely panoramic full-length sunroof, as well as those very convenient sliding doors, which are automated for your pleasure and convenience.

Engine Type
:
4-cylinder in-line 16-valve TSI Turbocharged
Horsepower
:
162kW (217 bhp) / 5100 rpm
Torque
:
350 Nm / 5000 rpm
Transmission
:
6-speed (A) DSG
Acceleration (0-100 km/h)
:
7.8sec
Fuel consumption
:
13.7km/L