---
MINI injects some sportiness into its range with their head-turning Coupe.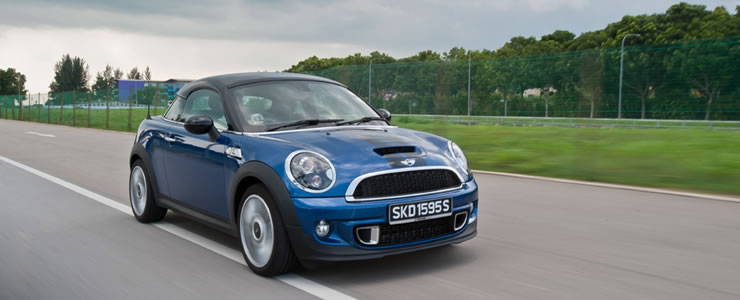 MINI seems to want to stick its fingers into every part of the automotive pie. Not merely content with bringing back the classic hatchback, the iconic brand has added an estate, crossover, and now a sports coupe variant in its line-up.
The coupe, called the, erm, Coupe, is arguably the sportiest MINI model by far. MINI claims that the Coupe will be a true enthusiast sports car, instead of merely being a good-looking accessory.
With MINI's well-renowned handling set-up, and a 1.6-litre turbocharged Cooper S engine, the Coupe looks to have all the ingredients for a perfect two-seater sports car. But can it deliver on that front?
Exterior
The most striking design element of the new MINI Coupe is the roof, or "reverse baseball cap" as some have derided. Some say that the squashed look makes the car look like it has been sat on, giving it an odd, lowered profile.
In truth, it doesn't look all that bad in the metal. Perhaps colour combination might play a part. In our test car's shade of blue with a black roof, the effect is not as distinctive as would, say, a yellow car with bright red roof.
The Coupe is also the first MINI with a three-box shape, although calling the stubby rear end a 'box' is a bit of a stretch. It's more like two-and-a-half, with its sloping rear tailgate leading onto a short rear overhang.
The small boot lid hides a rear spoiler, which pops up once you hit 90km/h. While it obviously has its uses, in the local context, it's akin to having a speed warning device of your own, proclaiming to all around you that "Hey, I'm breaking the speed limit!" Not cool.
But otherwise, the design of the MINI Coupe can only be described as unique. Whether you love it or hate it, you can't deny that it certainly grabs your attention.
This model is no longer being sold by local distributors
Engine Type
:
4-cylinders in-line 16-valves Turbocharged
Horsepower
:
137kW (184 bhp) / 5500 rpm
Torque
:
240 Nm / 5000 rpm
Transmission
:
6-speed (A)
Acceleration (0-100 km/h)
:
7.1sec
Fuel consumption
:
14.9 km/L