---
The Bavarian marque's take on pure open-top motoring is now a well-acclaimed all-rounder, arguably the best from the firm thus far.
More often than not, the choice of ride offers a glimpse of an individual's character. Especially when the costs are less of an issue (for the lucky lot that is), the selection criteria would rest on the wreaths of intangibles - style, brand image etc.
Though not the latest in its segment, there are no qualms about the Z4's ability to turn heads, and as a 'chick-magnet'. The 28i receives an up-tuned version of the 2.0-litre in-line four found in the 20i. We sample to find out how well the 'middle-child' of the range fares.
Exterior
The latest iteration of the famed roadster takes on an aggressive stance, accentuated by sleek, masculine lines (most notable being the inversely-arched 'brows') running through the elongated bonnet and side profile. As a whole, the Z4 feels more 'grown-up' now.
Up close and personal, there is no denying it takes a substantial amount of self-resistance to curtail any enthusiasm towards driving a machine like this. Like an athlete with essential running gears, the 28i comes standard with 18-inch multi-spoke alloys which fills the arches nicely, at the same time adding a sense of sophistication to the outlook.
Credit where it is due, the folding hard-top fulfils an exemplary role in bestowing the roadster with practicality and the aesthetics of a coupe.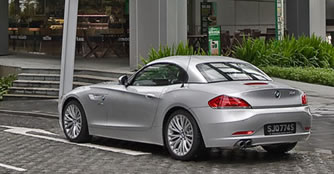 More distinctive roofline possible with the folding hard-top
This model is no longer being sold by local distributors
Engine Type
:
4-cylinders in-line TwinPower Turbocharged
Horsepower
:
180kW (241 bhp) / 6500 rpm
Torque
:
350 Nm / 4800 rpm
Transmission
:
8-speed (A) Steptronic
Acceleration (0-100 km/h)
:
7.2sec
Fuel consumption
:
14.7km/L