---
Renault's mid-size MPV brings diesel power to the family man.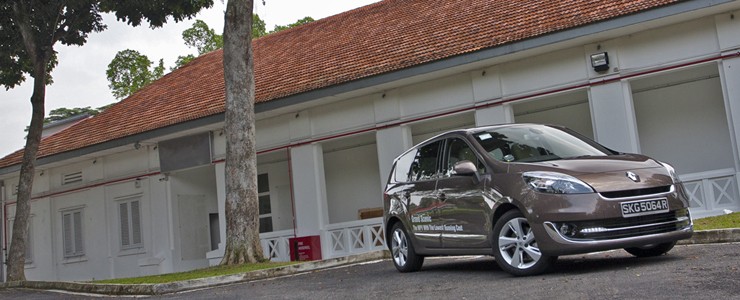 For the bulk of us, diesel fuel has always been deeply associated with commercial vehicles. Over the past decade, combustion technologies have matured substantially, such that burning diesel is cleaner and more efficient than ever. That prompted more carmakers to introduce diesel variants alongside their gas-gulping standard line-up.
While European countries have widely accepted diesel cars, the local take-up rate is still kept minimal. That could be due to our exorbitant taxes of diesel cars while the common perception about diesel being dirty can't be completely negated too.
The latest Grand Scenic is now available with a 1.5-litre turbo-diesel. With the revised diesel tax all set to come into place next year, things are just starting to get better.
Exterior
The Grand Scenic has been in the local scene for over a decade now. The French MPV provided a good variety for the local motorists, often edging out the competition with its stylish looks coupled with a tinge of French-eccentricity.
The latest generation took on a more rounded approach to the aesthetics. Finding their way with chromed bits, Renault has decidedly given the Scenic a more contemporary feel, The fact that the day-time running LEDs are a nice and soothing touch justifies this too. But unlike the recently updated
Megane RS
, the Grand Scenic doesn't possess the menacing looks on its headlamps. Instead, it exudes a sense of gentleness with its lady-like 'eye-lids' headlamps.
Overall, the softer edges also give rise to a more feminine look, especially when viewed from the front quarts. The rear-ward slopping roof, and converging shoulder-lines, accentuate a more aerodynamic profile, taking away the usual bulky feel of an MPV.
This model is no longer being sold by local distributors
Engine Type
:
4-cylinder in-line 16-valve Turbocharged
Horsepower
:
82kW (110 bhp) / 4000 rpm
Torque
:
240 Nm / 1750 rpm
Transmission
:
6-speed (A) EDC
Acceleration (0-100 km/h)
:
14.3sec
Fuel consumption
:
22.7km/L