---
The B-Class is a seriously spacious hatchback that will satisfy family dads and soccer mums with all the quality and appeal from the three-pointed star badge.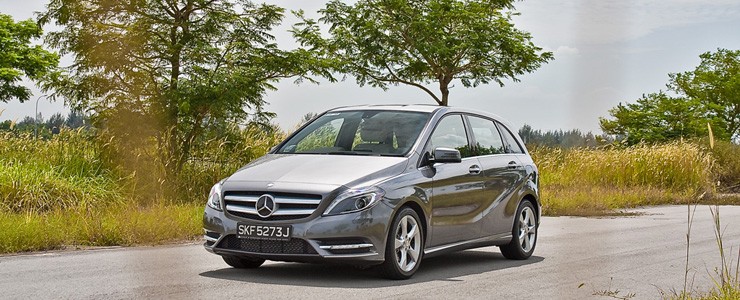 Luxury cars, be it German, Japanese or Korean, suggest images of big, opulent machines. But more recently, big players have been looking at the opposite end of the spectrum. Well, small is the new big, or the new beautiful in this case, considering the newfound sales success to a premium brand has been based on many small cars.
The Mercedes-Benz B-Class is one of those cars now and it's all new and brings about a fresh feel, albeit in an instantly recognisable shell. Showcased at the 2011 Frankfurt Auto Show, the B's platform is shared with the new A-Class and, unlike any other Mercs, is a front wheel drive car.
But unlike its predecessor, where desirability was never its forte, the new B-Class promises more. And it deserves to be a hit, really, taking into account that it has seen so many new developments in one fell swoop.
Exterior
We're having some big problems now. While Mercedes-Benz calls this car a Compact Sports Tourer, we reckon it's an enlarged hatch. In terms of its dimensions, the car measures at 4359mm x 1786mm x 1558mm (L x W x H). While it's still a high-riding hatch, the current B-Class looks more the part of a hatch with its lowered stance, wider body and chiselled sheet metal.
The first thing that really grabs your attention isn't so much the size, but the design. There are some styling flourishes intended to create a feast for the eyes - the well-defined nose, menacing headlamps accompanied by a pair of LED running lights in the front bumper, low bonnet and the upswept flank crease that will catch the attention of the fussiest designer.
Shape-wise, the B-Class is bigger and even more MPV-like than say a BMW 1er or the Audi A3 but it has a quality appearance. Quality appearance that will now attract the younger and trendy crowd. Quality appearance that will inevitably link this once unpopular Merc to the current family DNA - exemplified on the more significant C, E and M-Classes.
While the new hatch is longer and wider, the height has been reduced and is definitely a visual improvement over the less-than-loved predecessor.
This model is no longer being sold by local distributors
Engine Type
:
4-cylinder in-line BlueEFFICIENCY
Horsepower
:
115kW (154 bhp) / 5300 rpm
Torque
:
250 Nm / 4000 rpm
Transmission
:
7G-DCT (A)
Acceleration (0-100 km/h)
:
8.4sec
Fuel consumption
:
16.4km/L