---
The off-road ability of the G-Class isn't the only rational reason to choose it over other modern SUVs. There's also the irresistible charm and charisma.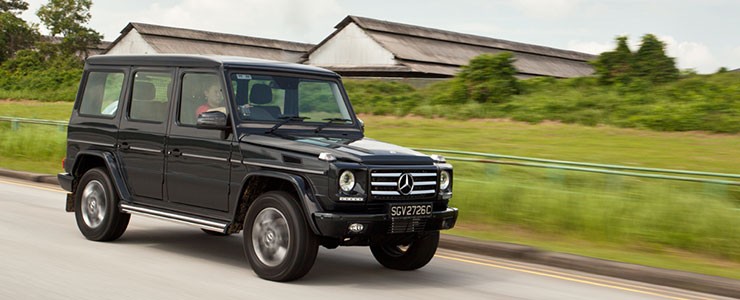 Produced in Austria for Merc, the G-Class - aka Gelandewagen - has been around since 1979. Originally developed for military use, as suggested by the Shah of Iran (also a great shareholder of Merc then), the G-Class remains to be the longest produced Mercedes-Benz in Daimler's history.
34 years later, the Gelandewagen hasn't aged at all. In fact, it soldiers on with a round of revisions to its sheet metal. Like the Land Rover Defender 90 and 110, the strong and vigorous Merc that you see here is a vehicle that even time, progress, fashion or COE can't kill.
And even though the car is virtually irrelevant to almost everyone, it is probably the greatest car on earth for the mere fraction of a percentage of Mercedes-Benz buyers and off-road fans alike.
Exterior
As far as hardcore off-roaders go, the G-Class is probably considered one of the best. With its instantly recognisable face and boxy upright shape, the car is one indestructible bushwhacker. Yet, we reckon it's quite unlikely that most buyers in Singapore will venture far from the pavement.
With the car's luxurious badge, flared fenders and machismo character, the G-Class is more of a niche favourite for buyers who have little interest in its formidable prowess. Instead, it's the bragging rights that probably got their attention.
And you can't fault them for being attracted to the car for the wrong reasons. With a price tag of $410,888 (as of 14th Feb 2013), not only is it one of the most expensive SUVs in Singapore (apart from the RR Vogue and Sport), it's also a cult machine and a celebrity magnet.
Coupled with the added bling of LED lights under its distinctive round head lamps, the butch appearance of the car comes across as a piece of automotive jewellery that will complement the driver regardless of his gender or race.
More relevantly, its ageless design will get you noticed whether you're just a soccer mum or a soccer star. It's such a head turner that casual observers don't just look, they stare expressionlessly - probably because it's the kind of car that they will only expect to see jungle thugs piloting in a Stallone flick.
This model is no longer being sold by local distributors
Horsepower
:
157kW (211 bhp)
Transmission
:
7G-Tronic Plus (A)
Acceleration (0-100 km/h)
:
9.1sec
Fuel consumption
:
8.9km/L