---
Not only does the Mercedes-Benz A-Class look strikingly brilliant, it drives and rides with absolute confidence.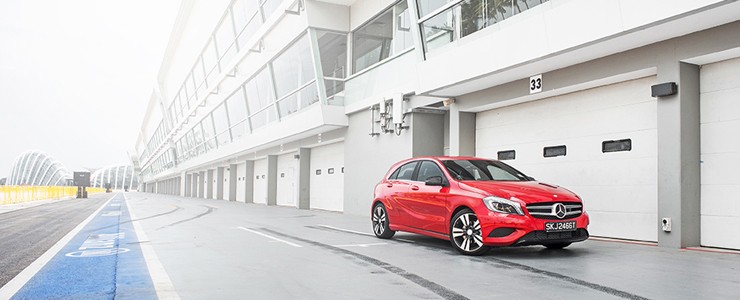 The first generation A-Class was first introduced to the world in 1997 and it wasn't until 2004 when Mercedes decided to give the hatch an update. This said update brought along a three-door body and sat lower than the first gen A-Class.
But regardless of the changes, the A-Class remained to be a tall car with a short length, resulting in a lack of desirability and an overall styling that wouldn't tick the usual Benz boxes.
It wasn't like Mercedes wasn't capable of making good cars, but the A-Class missed its targets by a fair bit as it never really did manage to look or drive like a how a proper Mercedes-Benz should.
16 years later, the third and all new generation was first revealed in 2011 at both the Shanghai Auto Show and the New York Auto Show as a concept. And it was only last year when the production model was revealed at the Geneva Motor Show.
With fierce competitors such as the BMW 1 Series and the Audi A3 gaining the attention of hatchback buyers, it seems that the German marque hopes to shake up the market and capture lost ground with the A-Class - the new baby of the Mercedes family.
Exterior
The designers must be proud with their work because the end result of their efforts is hugely impressive.
While the outgoing A-Class had a snub nose and was more vertically shaped, the latest German hatchback has been 'flattened' and dramatically designed, giving it a more horizontal and familiar look. And considering people love familiarity when it comes to cars, it will not be a surprise that this new recipe will work well for Mercedes.
In a way, following the conventional proportions that are typical for its segment makes the A-Class an obvious Merc. The headlamps, sharp nose as well as the shape of the two-bar grille, which can also be opted as a striking diamond studded design, mimic the brand's design language.
The beautifully aggressive front is more than just your passing styling cues from the SLS supercar while bold lines curve up elegantly from the front arches to join the taillights.
At 4,292mm x 1,552mm x 1,433mm (L x W x H), the new A is now closer to the dimensions of fellow rival - the BMW 1 Series Hatchback. But in terms of styling, it will easily triumph the Bavarian hatch, even if the rear of the car looks a little pinched and flat.
This model is no longer being sold by local distributors
Engine Type
:
4-cylinder in-line BlueEFFICIENCY
Horsepower
:
115kW (154 bhp) / 5300 rpm
Torque
:
250 Nm / 4000 rpm
Transmission
:
7G-DCT (A)
Acceleration (0-100 km/h)
:
8.3sec
Fuel consumption
:
17.2km/L