---
Volkswagen's hot hatch icon goes topless for the first time in its 37 years history. Meet the Golf GTI Cabriolet.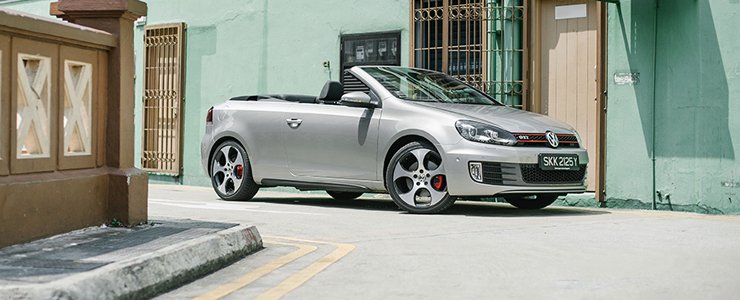 There are days when we hope for good weather more than others. It's almost like when you are asked to be the best man for your buddy, you murmur a silent prayer for a good sunny day.
There must be other numerous occasions when you hoped for the rain clouds to go away, too. And having a set of keys to a cabriolet must be one of them.
And not just any cabriolet. This is the very first GTI hatch to go topless. A very special one indeed.
Let's take a look at some quick facts. The Golf has been through seven generations, with each spawning a GTI variant. However, there has only been four generations of the cabriolet. And rarity is definitely a welcomed trait.
By combining the most desirable attributes of two hugely popular variants into one single car, the Wolfsburg automaker must have done it bang-on right. Or have they?
Exterior
Having seen and experienced the Mk7 Golf lately, the GTI cabrio feels like a revisit - somewhat like a deja vu. Much of the cabrio's aesthetical treatments have been carried forward from the Mk6 GTI - with only a bespoke rear diffuser that is unique to the cabrio.
That is not to say the GTI cabrio is outdated. It still has the right bits to help it stay current in the competition, such as LED daytime running lamps - giving it a distinctive identity.
On the other hand, while the styling still carries a good sporting sense, there is no shunning away from the fact that it is slowly losing the novelty feel - the fact that the GTI hot hatch has been a common sight on our local roads.
This model is no longer being sold by local distributors
Engine Type
:
4-cylinder in-line TSI
Horsepower
:
157kW (210 bhp) / 6200 rpm
Torque
:
280 Nm / 5200 rpm
Transmission
:
6-speed (A) DSG
Acceleration (0-100 km/h)
:
7.3sec
Fuel consumption
:
12.9 km/L